By Courtney Murray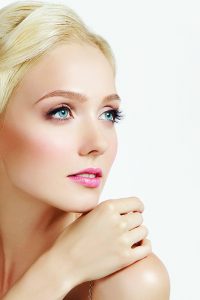 Spring is upon us. It's a new season, and it's time to put a fresh face forward. Many days are spent wearing nothing but sunscreen when living at the beach, but sometimes you want to spice things up a bit. This spring there are four distinct makeup looks that will suit every woman. Ranging from barely there to bold and beautiful. Every woman strives to achieve that flawless look where they appear to be wearing no makeup at all and end up looking like a flawless version of themselves, all natural. The first look is dewy and fresh. Face oils are huge right now and give you a perfect glow. Using a tinted moisturizer creates a lighter look than a heavy foundation and there are types that combine SPF and even a little shimmer. Sweep a peachy blush across your cheekbones to create that flushed look, without the workout. Finish off the look with a pink lip stain and a coat of mascara to open up your eyes.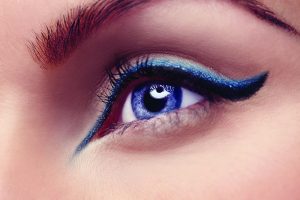 The next step up is the matte nude look. The trick to making this look appear modern and not fall flat is varying the texture and tones of your nudes. Matte lipsticks, lip stains and liners are on trend and look fabulous paired with a bronzed cheek and a pop of shimmering highlighter. You can get a double use out of a contour palette by also using the different tones as neutral eye shadows. Using a nude liner on your inner eye rim will give you a wide-eyed and awake appearance and a mascara formula with extra curl and fanning effects will create a natural doe eye. A light pink or peach lip-gloss is the perfect way to complete your face.
The next look is all about that shine and glitter. Metallics are back again this season, with gold in the forefront. These shimmery shades elevate the look from a middle school girl playing makeup to a woman full of fun and sophistication. When applied below the lower lash line and paired with lots of black mascara this is a look that will stand out. A more subtle way to get some shimmer is with an iridescent highlighter; it's time to strobe out! If you aren't ready for glitter on your eyes, you can ease into the trend with glitter nail polish, the chunkier the better.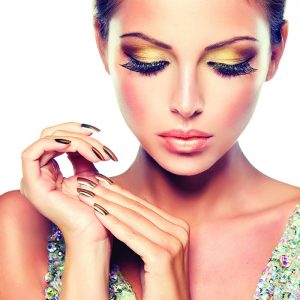 The biggest and boldest face can be achieved with pops of color. This spring look is both fresh and unexpected. Keep your face clean and take a risk with a cobalt or cannery yellow liner. This look is reminiscent of the 1980's but with a modern twist. If bright colors aren't your thing, a bold lip can be a risky new take on a spring look. Pink/red tones and black cherry lips translate to spring with a nude face and curled eyelashes coated with shiny black mascara. The best thing about makeup is its ability to transform not only your appearance but also your mood. A fresh new look can turn an average day into new opportunities and your confidence will in turn brighten those around you. Cheers to experimenting with some new looks and happy spring!