By Liesel Schmidt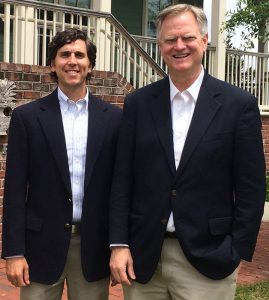 There's a sense of history and charm that runs through the downtown district of Pensacola like a current, pumping it with life and liveliness that captivates people and captures their hearts. It engenders the feeling of community, a shared love of the unique character that lies in the very foundations of the houses and buildings that line the avenues; and though it may have only claimed its position along Bayfront since 2007, the Lee House exudes a storied past that belies its relative youth and makes it fit perfectly within the embrace of the neighbors who have stood here for generations.
Granted, that impression of aged grace and grandeur is intentional, as the Lee House is actually a replacement for the original home that once stood on this same plot of land. First built in 1866 by William F. Lee, the building was later declared a historic landmark that was used by the Pensacola Association of Realtors as its official headquarters until 2001, when it was destroyed by a fire and Hurricane Ivan's winds devastated it further in 2004. Far past the point of saving, the original structure was demolished, and a new home was designed, this time with the intention of bringing elegant service and class in a boutique hotel setting that seems to have been standing tall and proud for centuries.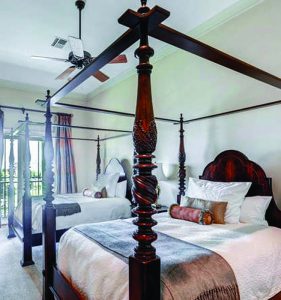 Since opening in 2007, the Lee House has gained a reputation as premier accommodations and event space for area visitors as well as members of the community seeking an excellent level of service and hospitality that could well be considered matchless—especially in light of the unique appeal and one-of-a-kind amenities afforded this nine-suite hotel and event venue. Having changed hands from the original owners in 2014, the Lee House has never wavered from its original vision; and the team of managing partners and owners who now operate Lee House are as determined as ever to offer their guests an experience unlike any other.
"Our downtown location in the historic district, with views overlooking Pensacola Bay, Seville Square, and Fountain Park, gives us a unique setting where guests can truly see and experience Pensacola the way that people in the community do," says Tosh Belsinger, who co-owns and co-manages the Lee House along with partners Collier, Burney, and Will Merrill. "It provides them with more of a cultural view—they can enjoy the art and dining and shopping that makes up the heartbeat of our downtown district—and that really feeds into the charm."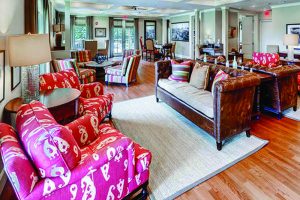 So, too, does the intimate atmosphere of the hotel, whose architectural aesthetic is very much in keeping with the original period of the Lee family home, while its furnishings and interior design offer an artful balance of modernity and classic elegance. And that elegance is in everything they do, from their beautifully appointed rooms to the level of personal care and hospitality they provide their guests.
"Because we're a smaller hotel, we're able to develop real relationships with our guests, which is a priority for us; and those relationships create a desire for them to come back," Belsinger goes on. "We're very much dedicated to creating a feeling of intimacy here, and that's something that the community has definitely embraced and appreciated."
That appreciation is evident in the many relationships the Lee House enjoys with the small businesses is the area, creating partnerships that not only feed back into the local economy, but also ones that have launched the Lee House to the top of the list as one of the go-to event venues and accommodations for business guests, tourists, and even locals who just want a special place to enjoy some time away.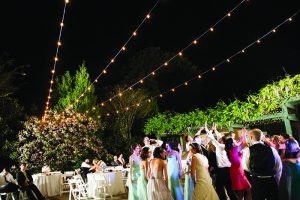 It's become quite the destination, in fact—and in the collaboration that it enjoys with the Merrill brothers' Great Southern Restaurants, the Lee House boasts access to an in-house restaurant group headed by renowned chefs to provide not only accommodations and venue spaces, but also catering and special dining events that add even more distinction to its offerings. "Partnering with the Lee House was a great combination and a great opportunity, because our visions align so perfectly," says Collier Merrill. "Our restaurants are dedicated to excellent service, and that's really something that the Lee House mirrors. It's also given us a solid foundation to provide everything a guest or a client could need, right here, in-house. Our manager, Stephanie Mathis, is also an excellent wedding and event planner; so we have a top-tier team offering that same standard of personal care and quality service in absolutely everything that we do."
Whether serving as a venue for weddings, corporate events, or private parties or hosting guests at the hotel, the Lee House offers a welcome unlike any other; and that invitation is open at any time. "We want people to feel free to come whenever they wish and see what we provide them here, so we welcome visitors," says Director of Marketing Maria Goldberg. "The superior service, the location, the sense of community and hospitality—all of that is something you feel immediately when you come, and it's an experience you cannot duplicate, especially in larger hotels."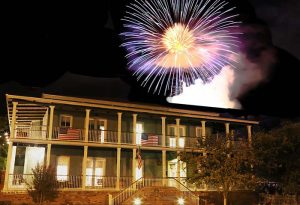 For the Lee House, being small means more attention can be given, more personalized care can be provided, and a better standard of excellence can be maintained. It's a boutique experience that does precisely what being boutique is all about—showcasing something truly unique and special—and the Lee House is just that.
Lee House Boutique Inn and Events is located at 400 Bayfront Pkwy., Pensacola, Florida, 32502. For more information on accommodations and event booking, call (850) 912-8770 or visit www.leehousepensacola.com.