Story by Courtney Murray
Pensacola, Florida, is surrounded by natural beauty, creating the perfect environment for outdoor adventures. The crystal clear water of the Emerald Coast is a playground for water sports. If you're feeling athletic, you can try your hand at paddle boarding or kayaking. If you like to sit back and relax, maybe boating is more your speed. And if you want a combination of both, then go fishing. There's a movement of women who love the sport, and love to look good while doing it. Fishin' Chix was founded in 2004 following Hurricane Ivan by a group of women from Pensacola. The genius of the brand started with Claudia Tamburro and soared quickly into the women's fishing and recreational fashion arena. "Today we are continuing the tradition of fun and fashionable fishing with new owners and stakeholders working feverishly to plan 2018. We are a lifestyle brand focused on adventure and fun on the water, embracing nature and inspiring women to experience fishing and boating," described Co-Founder, Tristessa Osborne. According to a 2011 report from the U.S. Fish & Wildlife Service, one-third of anglers are women and Fishin' Chix is on a mission to drive that number up.
These women are highly involved in the community and host many fun filled member socials, participate in fishing rodeo's and tournaments, and host the popular "Pink Rubber Boots" tournament for Fishin' Chix members. They are working with a few local businesses on new and exciting plans for 2018, including giving back to the community that supports them. This year, they've selected AHERO (American Hero's Enjoying Recreational Outdoors) as their focus. AHERO's goal to heal the physical and psychological wounds of war and military service by connecting Veterans through outdoor activities and recreation. Tristessa said, "Their mission aligns perfectly with the spirit and heart of our membership and community. We believe it's our responsibility to serve as a conduit to raise awareness and give-back and we are looking forward to working with a variety of charitable organizations in upcoming years."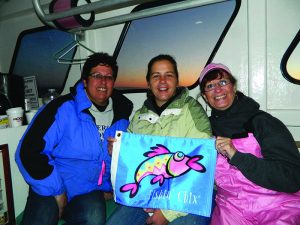 It's a Fishin' Chix revolution with the mission to inspire and fashionably attire adventuresome "reel" women. This incredible organization strives to inspire women to experience adventures throughout the year and give back to their communities and environment. Fishin' Chix is a community that has grown into a national membership group since their inception and continues to spread their love of fishing, boating and the outdoors to women everywhere.
---
Interview with Tristessa Osborne, Fishin' Chix Co-Founder
How many members does Fishin' Chix have?
With over 17,000 followers on Facebook and a growing Instagram audience, we have spent the last year getting the word out that we are refreshing the brand and planning new adventures. THANK YOU to our supporters and followers! We began accepting memberships in late March and we are capturing new members each month representing the states of Alaska, New York, Virginia, West Virginia, Minnesota, Connecticut, Georgia, Alabama, Louisiana, Mississippi, and Florida.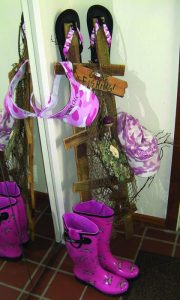 Describe some of your services.
In the early spring, we received a call from a local charter Captain which turned into a blossoming association with Emerald Coast Sportfishing, LLC. With the generosity of the owners and their team, we've fished in 3 tournaments actively working to develop our "O-FISH-AL" "TEAM Fishin' Chix" sport-fishing team. Our members receive discounts from select sponsors, fashionable attire, merchandise, and opportunities to fish and experience the beauty of being on the water, making new friends, and memories that last a lifetime. Thank you to VIP Magazine for your support and to all the readers, we invite you to join in the adventure of Fishin' Chix. 
What do you love most about Fishin' Chix?
Fishing! I recall working at the first "Pink Rubber Boots" tournament, anxiously awaiting everyone's return to the weigh-in on Pensacola Beach and the moment ladies returned to the dock, carrying slippery fish, wearing their Fishin' Chix gear. I vividly remember women with HUGE smiles on their faces and the air filled with laughter. I've been hooked every moment since. Whether you have fished all of your life or you want to learn to fish, we welcome ladies to join in the fun and we guarantee smiles abound! 
What is like to work with family for a company you are so passionate about?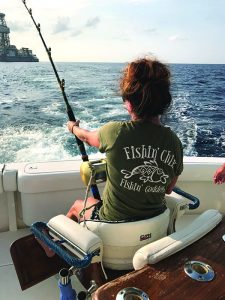 I broke all the rules of business, but then, that is simply reflective of the very nature of who I am; non-conformist seeking to do good and give back, creating change along the way. I selected a few people to join in the adventure of redesigning and refreshing Fishin' Chix, and they are a mixture of family and long-time friends. I lost my father very unexpectedly in 2009 and found myself floundering without his cheerleading and constant encouragement. My father encouraged me by saying, "trust me, you want to live life, this kind of stress is sucking the life out your soul." With that conversation in mind, when the opportunity to buy Fishin' Chix was presented, I knew who I'd want on my team if they'd be willing to ride the rollercoaster of entrepreneurship with me. My cousin, who was close to her uncle and my father, was my first call, which led to the establishment of Chix Adventures, LLC in his memory. "Look at it like it's an adventure" is a business motto for us, and a phrase my father used often. I am fortunate to have the small but mighty team of owners and stakeholders who share the enthusiasm and passion to inspire women to be on the water and fish. We are honored to be a catalyst for new experiences for women, families, and children. At times, we even get to honor loved ones by returning women to the water and hooking a good fish. We all work in different segments of the industry, but we have a team with heart-centered thinking and we compliment one another with our strengths and experience.