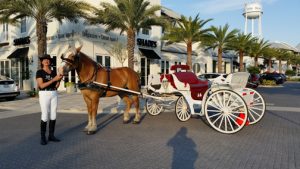 By Liesel Schmidt
Your wedding day is all about celebrating the fact that your union is becoming official, taking that next step and vowing a lifetime of forever. Such an occasion is certainly a time to shine, from the dress to the venue to the…well, everything. Which includes the grand entrance…and, of course, the grand exit.
True, you could opt to take the simple route—literally, no pun intended—or you could do something much more memorable and far more worthy of the momentous occasion by hiring a service to take you to and from your ceremony or reception venue. Or why not go for broke and do both?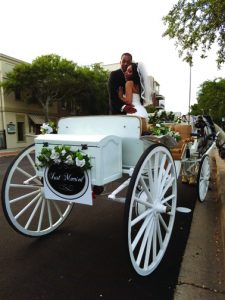 From hiring vintage cars to stepping onto Segways, couples have been using their arrivals and departures to make a scene, and Pensacola has a few tricks up its sleeve when it comes to great ways for transporting your Big Day to the stuff made of dreams.
And what little girl doesn't have fairytale dreams for her wedding day? Perfect for those enchanted visions, Carriages of Pensacola offers horse-drawn carriage rides throughout the area, providing an undeniably magical experience that is unique, romantic, and unique. "There's so much charm and beauty in the architecture of downtown Pensacola, so it couldn't be more suited for weddings," notes co-owner and operator Barb Righter, who started the company along with her daughter Brenda in 2013 after their family moved to the country so that they could have land for their horses. "Our carriage service can provide a magnificent way to make an entrance, travel between venues, entertain your guests, and exit the many fantastic wedding sites and accommodations in the area," Righter goes on.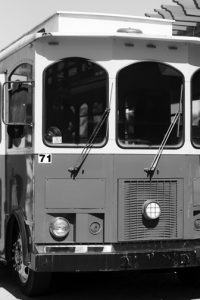 And when you're talking about ways to create magnificence, there's nothing that can top a horse. "The view and the sound of our impressive 1800-pound draught horses pulling our open Victorian carriage creates a head-turning moment and captivates guests' attention even before the bride sets foot down the aisle," explains Righter, whose husband Jim has found his niche in the family business as head carriage driver. "When the bride and groom get into the carriage, their guests can take all the cell phone pictures they like, and then we can take them away for a short, private ride so that they can have a moment to relax together for their first time as a married couple on their wedding day—usually just around the square, but long enough that their guests move on to the reception and leave them to work on their post-ceremony photos. After that, we can transport the bride and groom to their reception venue for the grand entrance. At the end of the evening we can, of course, provide that dramatic exit amidst sparklers, or bubbles, or lavender and transport the newlyweds to most any local lodging for the evening. Our service dovetails perfectly with the character and architecture of Pensacola. We also have a horse and carriage that are well suited for the country feel of a barn wedding."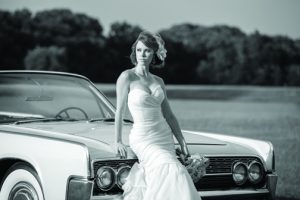 Not everyone's dreams align with the whole horse and carriage thing, however, but they're definitely not without other options that offer nostalgic charm. Offering a nod to Pensacola's old trolley transportation system downtown is Beach Bum Trolley, LLC, which has been running routes since 1998, when Tom McKean established the company to provide memorable modes of transport for every type of event from weddings and private parties to corporate functions and military reunions. "The bell on our vintage trolleys signaling their arrival makes for a great hello to a wedding party; and during the ceremony, a 'Just Married' banner can be hung on the rear of the trolley to provide for a memorable, attention-getting exit," says owner Tom McKean. And with their shiny red or green hulls, these trolleys are certainly un-missable, not to mention an ideal way to accommodate full wedding parties. "It's a fun and safe way to transport everyone together, and it's definitely a way to create a great memory," McKean continues.
Memorable, too, are rides in the vintage cars and sleek limos offered by 654-Limo. For nearly 15 years, the company has been providing clients all-inclusive luxury ground transportation for every need, from airport pick-ups and corporate shuttling to private parties, weddings, and funerals. "The best day of someone's life deserves the best ride, and couples love hiring limos for their wedding to add that extra touch of style to their special day. When couples book their wedding transport with us, they experience the pinnacle of all-inclusive, luxury service; and the entire experience is completed by our courteous, professional chauffeurs who make sure every detail is perfect and deliver you on schedule and in style to the church, venue, or photo sessions," says owner Andre Drevinskas. "A wedding is all about creativity, originality, and style. Leaving your wedding in style is as important as making a fabulous entrance, as these are some of the most fascinating and emotional moments a wedding has to offer."
Coming and going, this is your day, so use every opportunity to make it wonderful. You'll have memories to last a lifetime and give your guests something to talk about for years to come—after all, marriage is the ride of your life.
Services can be booked for Carriages of Pensacola by calling (850) 304-1069 or visit www.carriagesofpensacola.com. For more information on services and rates offered by 654-Limo, call (850) 654-5466 or visit www.654.com. To learn more about Beach Bum Trolley, call (850) 941-2876 or visit www.beachbumtrolley.com.