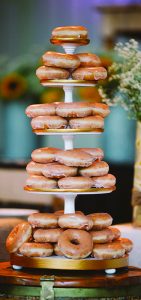 By Liesel Schmidt
Wedding cakes have been the centerpiece—aside from the bride herself, of course—at weddings for longer than anyone can remember, but strict adherence to that age-old tradition has given way to more non-conventional options when it comes to making the Big Day even sweeter. Basically serving as mini-me's dressed in fancy little fluted paper skirts, cupcakes seem like a natural point of departure from cake, and so the petite-sized versions of the multitiered majesty have been a popular stand-in; but more recently, donuts have garnered their own bit of attention, as well. And whether you decide to swap out the cake completely or just add some attendees to the sugar party, these ring-shaped bites of bliss can be the perfect way to give your guests a sweet taste of happily ever after they'll never forget.
Donuts come in every version imaginable—yeast and cake, frosted and unfrosted, fried and filled—giving you endless possibilities for bringing a touch of whimsy and offering flavors that are sure to suit everyone's taste. And—let's be real here—who doesn't love a donut? From bridal shower to reception, donuts can make the guest list at any point in your nuptial timeline, so open your mind—and your mouth—and get ready to put a ring on it…
Bridal Showers:
Use donuts as the theme for your bridal shower and tie in the color palette for your wedding with the frostings and fillings you choose. Pile them on delicately pretty plates and cake stands and let your girls indulge in the sweetness—after all, this is supposed to be a sweet time in your life, right?
Reception Centerpieces:
Rather than using floral arrangements or something more expected as the centerpieces for your tables at the reception, used arrangements of specialty donuts on cake stands as the focal point for each table. They'll help keep your guests happy while they wait for dinner, and they'll definitely be something that everyone will be talking about…
Favors with Flavor:
If you want to give everyone a sweet send-off, give them all their very own donut in a little designer box monogramed with your initials or a cute message.
Hello, Sweetie:
If you tend to think outside the box (yes, I went there) and want to give your wedding guests something to make the munchies forever hold their peace during the vows, set up a table of the doughy delights near the guest registry book so that everyone can indulge a bit on their way to the ceremony space.
Cocktail Cuties:
Use miniature donuts or donut holes as one of your options for passed hors d'oeuvres during cocktail hour, and no one will have room in their mouth enough to ask when dinner's coming.
Seasonal and Artisanal:
The flavors of the season can be your inspiration for the flavors of the donuts you choose. For fall or winter, use warm spices like cinnamon, nutmeg, or apple pie or pumpkin pie spice mixtures or ooey-gooey caramel or sweet and smoky maple bacon. In summer, use fresh fruits like berries or sweet cocktail-inspired combos as the thought behind your frostings and fillings.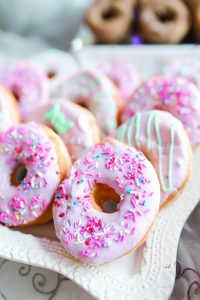 Dip Into It:
Serve specialty dips and toppings with your donuts to add even more variety and fun to the dessert course, if you're having one. When your guests can create their own flavor combinations, it'll keep them happily occupied and their sweet tooth more than satisfied.
Cut the Cake (Out):
If you're not much on cake, you don't have to serve one. This is your day, so serve something you love instead of trying to stick to the norm or follow "the rules." For a pure white option, create a cake-like structure with a stacked, circular arrangement of powdered donuts on dessert stands and top off the tower with a pretty cake topper. If you want to be colorful, use your wedding hues as your color palette for the icings on your donuts, and fill them with a variety of flavors that are the perfect match for the icings you've chosen. Or take a cue from the French and use donut holes as your very own twist on the croquembouche, an elegant confection made of choux-pastry balls piled high into a cone and held together by the matrimonial bonds of caramel.
From first bite to last, your wedding day donuts will leave your guests' taste buds happily engaged.