By Liesel Schmidt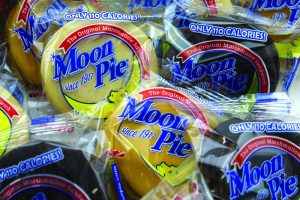 Once upon a time, back in the mining days of the South, a Tennessee baker asked a local coal miner what he would like to eat while he was out on the job. The answer came not as something hearty and filling, but as something that was quite a sweet surprise: a delicious treat with marshmallow and graham crackers. What resulted was later branded as The MoonPie—a name inspired, as lore goes—by that same miner's request for his new snack to be "as big as the moon."
Since 1917 when that first MoonPie was made, it has gained wide appeal across the United States, though nowhere is it more iconic than in the South, where its roots lie and where Chattanooga Bakery still manufactures millions of them each year. Traditionally paired with an RC Cola since the 1950's when the curious combo became known as "a working man's lunch," MoonPies consist of two round graham crackers sandwiching a filling of marshmallow and dipped in a flavored coating. Originally, the treats were coated in chocolate, though they are often enrobed in vanilla, banana, strawberry, and salted caramel coatings.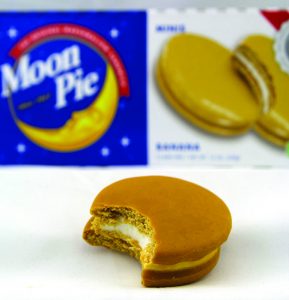 Interestingly enough, MoonPies made their way to the Mardi Gras parades of Mobile, Alabama, in 1956 as one of the float throws, joining traditional items like beads and doubloons to become a crowd-pleaser that is now an expected part of the festivities. Since then, MoonPies have been adopted by other Mardi Gras cities throughout the Gulf Coast as throws—most notably in Slidell, Louisiana, where The Krewe of Mona Lisa and MoonPie proudly runs its float down the parade route each year. In keeping with the excitement, an annual MoonPie eating contest is held during Mardi Gras in Oneonta, Alabama—a tradition started by a Wal-Mart employee who once indulged in a few too many pies.
In addition to its five main flavors, orange and coconut-coated MoonPies make an appearance during Mardi Gras season; and the four-inch diameter of the original MoonPie has been joined by versions both mini and maxi—with the double-decker variety adding a third graham cracker and a second layer of marshmallow filling. Whatever form they are found, however, no treat is more sweetly received during the Mardi Gras parade than a MoonPie—and it could well be said that there's nothing quite like a full moon at festival time.