By Liesel Schmidt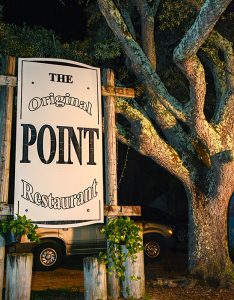 Offering locally caught mullet dishes served a multitude of ways as well as everything from plump Gulf shrimp to a selection of juicy, tender grilled steaks, The Point has a classic menu that does not bend to the fickleness of food trends or bow to the pretensions of hard-to-please foodies. Instead, it relies on the simplicity of quality ingredients—and that's the thing that, after more than 60 years, continues to keep their customers satisfied.
It's an interesting part of the history of this place to know that the restaurant that lays claim to the name "The Original Point" is not strictly the original, as ownership changed hands in 2015, when founder David Lively had a candid conversation with long-standing patron—and past employee—Christina Waller. Sitting perched on her stool with dinner placed before her, Waller was stunned to learn that the restaurant that had always been a part of her life might be shutting down. But rather than seeing it shuttered, Waller took Lively's offhand joke that she buy it and approached her father, George, quickly formulating a plan with him to buy the restaurant and save The Point from being lost forever.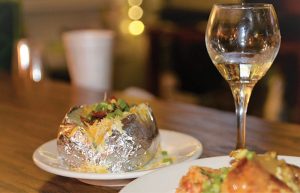 "I grew up just down the street from this place and I've always loved it here," Crisi explains. Having her own history with the restaurant was indeed the driving force behind jumping into the business, as was her father's own ready agreement to come onboard. The Point is a family place, a tie to the community, and the Wallers recognized the importance of keeping it alive and making it thrive.
Rather than completely reworking things, however, Crisi and George made few changes other than adding a few things to the already popular menu and doing some much needed renovations to the space—one of which included expanded the outdoor entertainment area to accommodate its ever-growing crowd of guests and allow for a fuller calendar of live band bookings.
"Music is important here, so we wanted to make sure that got a lot of focus," Crisi says, "but this place is also one that people love to come for great food. We made a few changes to update a few things and keep our food exciting, but all of David's staple items are still made using his original recipes. And, of course, we have a chef whose talent makes everything absolutely delicious."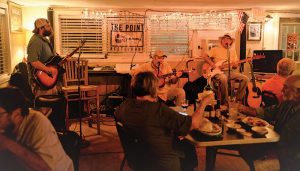 Falling neatly into place just when the need arose, one of The Point's former employees came on to take the helm as head chef, and for the past two years, Chef Buzz Valadao has been keeping the food at The Point a point of pride. "I put everything I have into being a chef, and I'm part of a talented team here where our greatest desire is to serve our guests the best product possible," says Valadao, whose 35 years as a chef are evident in the quality of the food he creates.
"It might sound like something of a cliché, but I really believe that love is one of the things that sets our food apart from other restaurants," adds Crisi, whose own love for her restaurant keeps her driven to see it succeed. "The chefs in the kitchen have a respect for every plate that goes out to our guests, and they truly take pride in their work and want it to be perfect every time."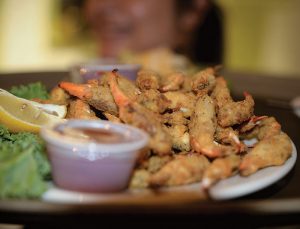 Bite after bite, plate after plate, nothing that leaves the kitchen at The Point is made without care and attention to detail. Even in their simplicity, these dishes truly allow creativity to spark, shining through in the ever-changing chef's specials as well as in a dessert menu that includes Chef Buzz's famous fried cheesecake and homemade cakes created with equal measures of love, butter, and whatever suits the fancy of a baker known as Mrs. Winnie. "Holy moly! She changes them every week, and I absolutely look forward to seeing what my dessert will be every night!" laughs Crisi.
It's a continuation of one man's dream, a part of the community rescued from being lost forever. And as George and Crisi Waller keep The Point thriving, they not only feed their guests—they add their own chapters to the history of a place whose walls hold generations of memories made as plates were passed and meals were shared. In all that is done here, love is the very thing that keeps The Point so truly on point.
---
Tropical Grilled Mahi Mahi
Ingredients:
8 oz. mahi fillet
4 oz. steamed shrimp
Salt
Pepper
Tropical Salsa (recipe to follow)
Directions:
Brush mahi with butter or spray with non-stick spray and season to taste with salt and pepper. Place on the direct heat of grill and grill approximately 4-5 minutes on each side. Remove from heat and plate. Spoon chilled salsa and shrimp over grilled fish and serve.
Tropical Salsa
Ingredients:
1 cup mango, diced
1 cup pineapple, diced
1 oz. red pepper, diced
1 jalapeno, seeded and diced
1 oz. red onion, diced
1 tbsp. cilantro, chopped
2 limes, juiced
1 tbsp. honey
1oz. pineapple juice
Red pepper flakes
Directions:
In a glass or plastic mixing bowl, combine all ingredients and stir together thoroughly until well mixed. Cover and let chill for an hour.
The Point Restaurant is located at 14340 Innerarity Point Road, Perdido Key, Florida 32507. Open Tuesday- Thursday and Sunday 11:00 a.m.- 9:00 p.m.; Friday-Saturday 11:00 a.m.-10:00 p.m. For more information, call (850) 492-3577.