By Liesel Schmidt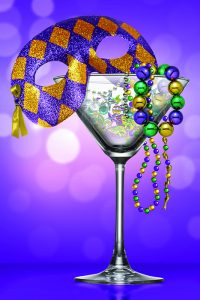 Commanding attention with their signature bursts of green, gold, and purple, King Cakes are a long-standing Mardi Grads tradition, the rich, bright bread covered in flash and flair and full of celebratory fun. But there's far more than simple sugar to this royally-robed treat, and hidden inside its cinnamon-spiced layers is a reminder of where the bread got its name, a story-teller of the tiny baby whose birth called ancient kings from afar to bring priceless gifts during the season of Epiphany. The King Cake has many iterations all over the world, but nowhere in America has this baked confection more fully taken hold than in the Gulf South, where Mardi Gras gets into full swing with parades aplenty and the region indulges in the good times in every way they can.
Offering a creative take on these beloved seasonal confections are King Cake cocktails; and bars and restaurants all over the region are getting in on the fun, mixing up everything from martinis, old fashioneds, daiquiris, and shots to "King Cake-infused" vodkas, all of them evocative of the flavor profiles—and uninhibited fun—of King Cakes. Think sweet, with notes of cinnamon and vanilla. In the case of creamy drinks, some even include the use of cream cheese, an ingredient common to King Cakes. Naturally, the spirit of Mardi Gras lends itself well to these inventive spirits—after all, what is Mardi Gras without the festivity, fun, and overindulgence? And while King Cakes traditionally have the baby hidden inside, these festive libations still make good on the theme with their colorful accents and rich flavors.
Mardi Gras King Cake Cocktail
Serves 2
Ingredients:
Green, purple, and yellow sanding sugar
3 oz. King Cake flavored vodka
1 oz. Grand Marnier
1 oz. Bailey's Irish Cream
3 oz. half and half, optional
Ground cinnamon
Instructions:
Add a thick line of each of the green, purple, and gold sanding sugars on a plate, being sure to keep them distinct and separate from one another.Wet the rim of a martini glass, then press the rim into the colored sugar, being careful not to mix the colors.In a cocktail shaker,combine the vodka, Grand Marnier, and Bailey's with ice (and half and half, if a creamier drink is desired). Shake well, then strain into the rimmed glass. Dust the top lightly with cinnamon and enjoy!