Story by Greg Alexander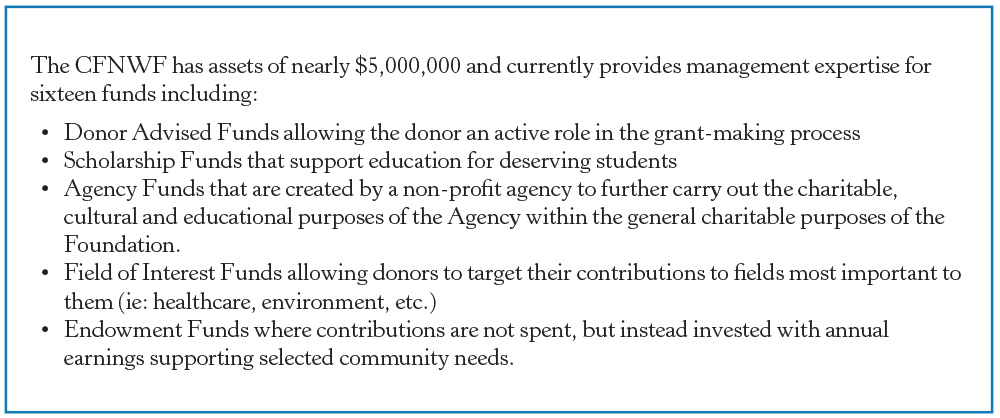 Since 2012, The Community Foundation of Northwest Florida (CFNWF) has been enriching lives and strengthening communities by serving charitable causes in Escambia, Santa Rosa, Okaloosa, Walton, Bay, Holmes, and Washington counties.  The Foundation originated in 1995 as The Greater Escambia Community Foundation and was first founded with a mission to serve only Escambia and Santa Rosa Counties. Initial funding came through a grant from the D.W. McMillan Foundation and commenced the process of helping support charitable organizations in the greater Escambia area.  As support for the causes grew,in February 2012, the Foundation's Board of Directors voted to change the Foundation's name to Community Foundation of Northwest Florida. With this, the Foundation's role expanded to serve all communities and areas of Northwest Florida. The Foundation is a tax-exempt public charity that brings together the financial resources of individuals, families, and businesses to support effective community nonprofits throughout Northwest Florida.  Since 2013, the CFNWF has been nationally accredited by the National Standards Board of Community Foundations.
For more than 15 years, the Community Foundation of Northwest Florida has been assisting donors in establishing long-term charitable giving that reflects their individual philanthropic interests while positively impacting our local communities.
As a resource for individuals, families, businesses, and non-profits, the CFNWF works hand in hand with professional advisors to meet the philanthropic needs of donors.  One does not have to be wealthy to make a difference.  You can contribute to an existing fund or new funds can be established with as little as $5000. If you are interested in learning more, visit www.cfnwf.org or call (850) 434-5890.
Q and A with Suzie West, Executive Director –
Community Foundation of Northwest Florida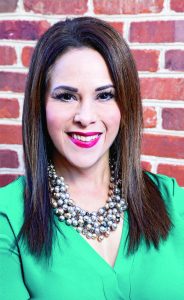 How long have you been with the Foundation?
I have been fortunate to work with the CFNWF since June, 2017. I was working with the Boys Scouts of America, Gulf Coast Council, as the District Executive when I was approached to interview for the Executive Director of the CFNWF. It's been a great fit and I truly love what the CFNWF does for our community.
What is the primary mission of the Foundation?
Our Mission is simple: To enrich lives and strengthen the communities we serve. For Good. Forever.
The Community Foundation of Northwest Florida is a charitable organization under section 501(c) (3) of the Internal Revenue Code, a public charity that promotes and facilitates charitable giving. The Foundation helps individuals, families, and businesses accomplish their charitable goals and helps non-profits as a source of grants and as a vehicle for building endowments for their future.All contributions to the Foundation qualify for the maximum available tax deduction allowed by the federal tax laws for charitable contributions.
How much has been awarded through the Foundation in the last year?
In 2019, the CFNWF awarded over $625,000 to non-profits throughout Northwest Florida. The CFNWF received over $200,000 in national grant awards to support community non-profits in their recovery efforts following Hurricane Michael. These grant funds assisted ten community groups in the hardest hit areas of the Panama City region. The majority of 2019 donations came from individuals and families through funds they established with the Community Foundation.
 What is your means of attracting/recruiting new donors?
To recruit new donors, we spend time instead of money. We work closely with financial advisors, estate planning attorneys, and those who assist individuals and families when they desire to financially help others in our communities. Members of the CFNWF Board are wonderful ambassadors of our mission and are regularly featured as speakers at local civic and community meetings.
How is overhead funded?
Funding for staff and overhead comes from an annual administrative fee of 1%. The fee is paid in advance each year based on the average market value of the Fund's assets during the previous year. The minimum annual fee is $100.

What does the future of the Foundation look like?
The Community Foundation of Northwest Florida's future is very bright.  The concept of a community foundation is pretty simple – we are a means to build, over time, substantial funds through contributions large and small and to pool many funds together in order to have a greater impact on community needs.

Our region is full of generous individuals who call Northwest Florida home and regularly answer the calls of many charitable causes. As a vehicle for people of all means to make a lasting difference in their communities, the CFNWF is uniquely positioned as the one organization that can manage a pool of resources all meant to address issues that impact our region.
As our region continues to grow, we will assist more individuals and families as they establish charitable funds with the CFNWF. Our main purpose is to serve the needs and philanthropic aims of these donors who wish to better our communities, now and in the future.
How is the use of your unrestricted funds determined?
All funds at the CFNWF are used to support the betterment of the Northwest Florida region. The CFNWF Board determines use of unrestricted funds to support a particular project or community need.
How many individuals sit on the board?
The Foundation's governing Board of Directors is comprised of leading community citizens who live in Northwest Florida. They represent a diverse group of people who have different areas of expertise and community knowledge. They oversee the management and policies of the Foundation. Currently our board consists of eleven members who serve a two-year term, with a limit of three terms (six years).
With so many opportunities for philanthropy, why might someone choose Community Foundation of Northwest Florida?
Simple, because you can support so many charitable organizations with one gift through the CFNWF. Essentially, the CFNWF acts as the holder of your charitable fund and provides management and investment expertise.
All contributions are tax deductible to the maximum amount allowable for gifts to a public charity. Indeed, because community foundations are classified as public charities under the tax code, some donors are able to claim larger tax deductions on gifts to community foundations than they are on gifts to their own private foundations.
A community foundation represents a wide variety of ideas and interests of individual donors who have united in a common purpose – the bettering of their communities both now and in the future. Whatever your charitable intentions, there are ways to achieve them through your gifts to your community foundation.