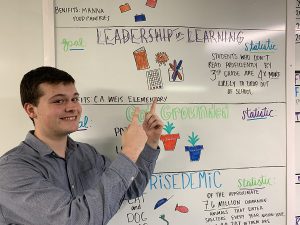 We have all heard the adage: "Today's youth are tomorrow's leaders." This is certainly true as we see new, young and talented individuals entering the world of adulthood every day. Some people may be considered born leaders, but all teens in the Pensacola area have a voice and an opportunity to make their world a better place because of an organization that does nothing else but develop servants and leaders. Chain Reaction is the Teen Leadership Institute of Northwest Florida and was founded in 2003 by Kristin Fairchild.  Since its inceptions, Chain Reaction has served over 5,500 teenagers.
Chain Reaction enables teens to learn through avenues of service. Provided with a safe, fun, and empowering environment, teens discover their innate strengths and untapped abilities where they unite as a team of connected, committed citizens who believe in themselves and strive to achieve more, and aspire to see the good in all things.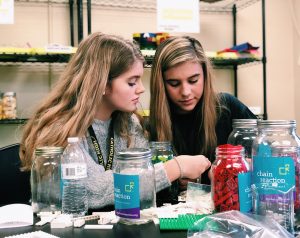 Chain Reaction clearly understands the multi faceted importance of community service and has developed a means to pay it forward to upcoming generations. Chain Reaction turns teen potential into great talent for our community by helping them develop their soft skills and leadership abilities, build their civic resumes, discover their gifts and talents, develop their hearts of service, and get them thinking about and planning for life after high school.
High school is primarily focused on achieving good grades to get into the college of choice, but a GPA is only one line on a resume. Chain Reaction want teens to be thinking about and developing the skills and experiences needed for their futures, and is providing an opportunity and means for them to become generous citizens and a strong future workforce.  Additionally, teens in the program are exposed to different careers in hopes of providing them some future job choices and educational paths that they may not have otherwise been exposed to.  One of the greatest parts of Chain Reaction is enabling the teens to put together the puzzle that is their future.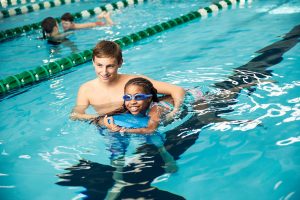 Chain Reaction partners with local agencies and non-profits for the teens to carry out service projects while building their love of community service.  Their time at Chain Reaction allows them to serve others, discover things about themselves and about the real world, all while building a resume of service that may help them with scholarship opportunities, interviewing techniques, and becoming an overall great citizen.
Q & A with Isabella DiPhilippo – Program Manager, Chain Reaction
*What impact has Chain Reaction had on the Pensacola community in the last year?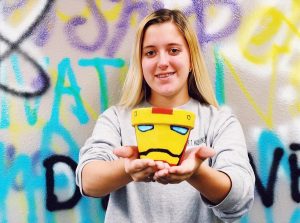 Chain Reaction teens have had hundreds of leadership experiences and completed over 8,000 service hours in the last year. If a monetary value was placed on this, our teens would have made a $67,680 investment in the Pensacola community. This has led to our graduating seniors securing $1.4 million in college scholarships.
Our teens worked on projects benefiting 11 different non-profits and organizations in the Pensacola area including Gulf Coast Kid's House, Legal Services of Northwest Florida, and Pensacola Humane Society.
*How did you become involved with Chain Reaction?
I am a Maine native and a graduate of the University of Maine with a degree in political science and leadership studies. After graduating, I began searching for a job that would allow me to apply my leadership studies knowledge and impact others. I found Chain Reaction and was immediately drawn to its mission and work. August will be my one- year anniversary in this position and in Pensacola.
 *Is the program styled in a classroom format or more practical/hands on work/volunteering?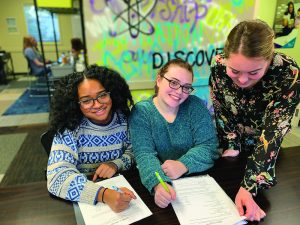 Chain Reaction is a hands-on service and leadership experience. Teens come to the Chain Reaction Center and work on a service project of their choice alongside a group of their peers. The service projects are teen-designed and teen-led. The hands-on service projects allow teens to truly understand their impact on the organization they're benefiting and how they are impacting the community.
*How do you discover each individual teen's strengths to determine areas where they may thrive?
At Chain Reaction, we use person-to-person conversation to get to know our teens. Asking questions like "What's your favorite class right now?" and "Are you enjoying Latin Club?" gives us insight into their worlds. We also focus on building teens' self-confidence by providing them with the encouragement needed to believe in themselves. As staff, we are constantly watching how teens work, lead, and act. If a teen has no problem speaking in front of his/her peers, we see that public speaking is a gift of this individual.
We also use our resume learning plans as a way to discover individual teen's strengths. In our resume learning plan packet, teens answer questions like, "What do you want to do after high school?" and "What is your favorite subject?" and "What are your three professional passions?" These simple questions reveal a lot about the individual answering them.
*Is there a specific success story you can share?
Dina joined Chain Reaction as a high school freshman and she fell in love with the passion she witnessed in other members, which inspired her to use her own passion to benefit our community. "I used to be so eager to grow up because I thought the only way I could help my society was as an adult. Chain Reaction showed me that every single person has the power to change the world."
Dina created her own service project with the help of Chain Reaction staff called Leadership in Learning, focusing on motivating young children to love reading and learning with rewards and prizes for reaching learning milestones. After a year of planning, Dina helped Chain Reaction partner with C. A. Weis Elementary School to give learning kits to third graders. At the end of her membership, she graduated and received a full ride to Syracuse University.
At Syracuse, Dina studied international relations and citizenship and civic engagement. She was designated as a 2019 Marshall Scholar, a Coronat Scholar, was a member of the Renee Crown University Honors Program, a 2018 Truman Scholar, and a 2018-19 Remembrance Scholar. Dina recently graduated from college and plans to work on immigration and education reform policy.
Dina is a prime example of what Chain Reaction seeks to do. Helping teens develop soft skills and leadership skills, build self-confidence, identify their passions, grow a heart of service, and design and lead projects giving teens the foundation needed for future success.
*Where does funding come from for Chain Reaction?
Our funding comes primarily from fundraising events, grants, community donations from individuals and businesses, and membership dues.
*Is there a staff or is Chain Reaction volunteer driven?
Chain Reaction has both a full-time staff and volunteers. While our staff is here day-to-day to teach curriculum and keep the organization running, our volunteers are a tremendous asset. They conduct exit interviews for our interns, grade teen resumes, help at our annual fundraisers, serve on committees, and serve on our Board of Directors.  Chain Reaction operates year-round with membership running from May to May. Teens can participate after school on Mondays, Tuesdays, and Wednesdays during the school year and five days a week during the summer.
*How can someone become involved or donate?
We are always looking for individuals to join the Chain Reaction team or donate to our organization. If you or someone you know is interested, please check out our website www.mychainreaction.orgor email info@mychainreaction.org.