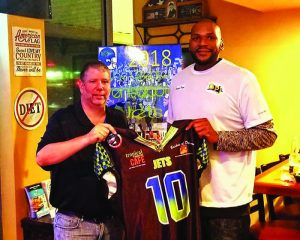 By: Kimberley Sabens
The Greater Pensacola Jets have become an established football team thanks to the visionary efforts of their founder, owner, and Head Coach Fred Barnett Sr. The Jets are a professional minor league team founded right here in Escambia County. Starting in 2013, the Jets have now played four seasons. Their current league is the APDFL (Amateur to Professional Developmental Football League). The league has over 30 teams, representing states from Arkansas to South Carolina. The Jets season usually runs from January to June and their home field is Brent Athletic Complex (Victor Randall Stadium). They also play at the Myrtle Grove Athletic Park off of west Jackson Street.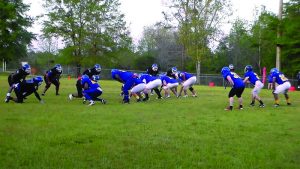 This organization is designed to develop athletes, front office staff, coaches, dancers, and models to further a more prosperous career. When discussing the mission of the Jets, Fred tells us that the organization's mission is to develop his young men into star athletes regardless of their future level of play, be it NFL, college, or Canadian Football League (CFL). He strives to teach them to succeed in life and make it to the next level in everything they do. He does so by developing their football skills and enforcing values such as respect and the importance of community. Their community efforts include toy drives for Christmas, food drives for the local food banks, and clothing drives for the area homeless. The team also serves as local liaisons for Sacred Heart Children's Hospital and the Pensacola Police Department.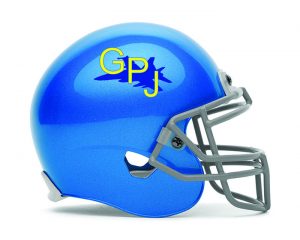 Always looking for helpful sponsors, this team is a nonprofit organization. Fred says, "We like to help other businesses advertise and become successful through a great partnership but our boys pay to play, instead of the opposite." He tells us that the team has even had one of their players make it to the NFL. This talented player is Whitney Richardson of Washington High. He also mentions possible CFL deals in the works for local Kenny McGhee of Pensacola High.
Fred's primary full time job is being the operations manager for Tropical Smoothie Cafe here in Pensacola. His second full time job is the football team. He says that it is very hard work, but the end result is to be able to help young men live their dreams. The Jets have announced a new Game Day Announcer and MC this season, Ron Spradling, who is extremely entertaining and deeply rooted in the Pensacola community.
Fred also raves about his staff including his assistant Kailen Williams, Defensive Coordinator Tammy Parker and Team Massage Therapist/Trainer Kristen Johnson. Tropical Smoothie Cafe is one of the primary sponsors for the Jets. The team will be led this year by returning All-American Quarterback Tyrone Jones, Offensive and Defensive Lineman Mike Jones, and a host of other great players.
For more information on the Greater Pensacola Jets, check out their website at www.leaguelineup.com/welcome.asp?url=pensacolajets, their Facebook page Greater Pensacola Jets, or give them a call today at 334-294-1772.
Q & A
*What impact has Greater Pensacola Jets had on the Pensacola community in the last year? We have sponsored many charitable events such as Sacred Heart Children's Hospital Christmas Toy Drive, Backpacks for the Homeless (filled with toiletries, clothing, and snacks) in early December, we played in an annual Stop the Violence basketball game that benefited at risk youth, and we volunteered at the annual DCF (department of children and family services) Spring Fling. We offer community service hours for approved citizens who are trying to get their life right.
*What are some of the greatest challenges your organization faces? Funding and sponsorships is the biggest challenge. The cost to run the team is less than $6,000 a year, but we are so focused on giving back to the community that the players have to pay a fee each year so that we can have an effective season, and it would be nice to have that covered. We do have sponsors that help us out, but of course, a little more help is needed.
*What is the most rewarding part of your involvement with the organization? Seeing these young men succeed in life, whether it's playing college ball, or in the Pros, or just to have gainful employment and being a productive citizen. Also to know that we help out people less fortunate than us is a big payoff.
*Describe a situation working with the organization that really stood out and touched you. A couple of years back I was diagnosed with soft tissue Sarcoma. I didn't have any insurance at the time due to a job change, and the team and their families raised money to help with the costs of treatments, but I did not accept it because there was a little angel named Sara who was 10 yrs. old battling Leukemia and I gave it to her family because they were struggling. My thoughts were, I have lived a decent life so she deserves a chance to live a long one as well.
*Is Greater Pensacola Jets involved in any upcoming events? We will be volunteering at the Pensacola double bridge run and at The Mardi Gras Downtown Parade with the Krewe De Gumbeaux. We will also be volunteering at the Black Water Multi Festival at Bear Lake in November.