Story by Greg Alexander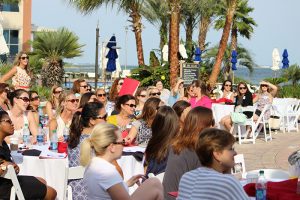 Some may have a preconceived notion of what a Junior League of women is. Some of you may be correct about the Junior League of Pensacola if your preconceived notion is that it is a collective of strong, motivated, caring women who want to build a better community through their efforts. The Junior League of Pensacola is an organization of women committed to promoting voluntarism, developing the potential of women, and improving the community through the effective action and leadership of trained volunteers. Its purpose is exclusively educational and charitable.
Founded in 1956, the League has played a role in starting other local organizations such as Escambia County Legal Aid Society, Speech and Hearing Center, the hands-on children's Discovery! Museum at T.T. Wentworth Museum, An Evening in Olde Seville Square, Bucklebear, Grants for Excellence, The Awareness Team, and the Women's Cancer Initiative. Kids In the Kitchen, the League's hands-on nutritional education and cooking demonstration program, can be seen at community events like the World Wide Day of Play, Heart Walk, and March for Babies.
Fundamentally, the Junior League serves as a training program for volunteers. Current President, Dannon Byrd notes, "As an organization, we empower women to lead and cultivate new skills in a safe environment — skills such as goal setting, project management, conflict resolution, and fund development. We are an organized group of skilled volunteers, not just willing hands."
This group wants to be very clear of their effectiveness. "The League prepares women to be thoughtful and intentional change agents for the public good. To see the true reach of the League's influence, you have to consider the many members who have gone on to serve in key leadership roles both in the workplace and in other local organizations. Members bring the skills and experience they get in the League with them, making them more effective in the other ways they choose to give back," Byrd described.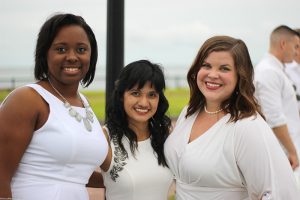 Members agree that membership in the League affects their lives on every level. Byrd explained this phenomena, "That's indicative of the power of this collective of women. We inspire, empower, and train each other to have a greater impact in the community."
The almost 400 member group cohesively believes being a member can be invaluable. It offers so many opportunities and they can travel almost anywhere and be plugged into a network of women who share interests and are committed to good works since there are almost 300 League organizations across 4 countries. League members are ambassadors for change and are aggressive in finding a need in the community and filling it. A profound impact is made both on the women who volunteer and the ones who benefit from their service. The make-up of Junior League of Pensacola has changed over their 60-year reign but their mission to help build strong leaders and servants while making Pensacola a better place has not.
---
Interview with Dannon Byrd, President

What is the mission of Junior League of Pensacola?
Our guiding motto adopted by the Association of Junior Leagues International (AJLI) is, "Transforming communities by challenging the status quo."
What impact has Junior League of Pensacola had on the community in the last year?
Last year, the Junior League of Pensacola raised around $71,000 for our community impact projects and programing. Not only that, but our members put in over 2,000 hours of hands-on volunteer service worth an estimated $50,000 contribution to the Pensacola Bay area.
This is just a glimpse of what we did last year. We have been at this for 60 years.
What is the most rewarding part of your involvement with the organization?
Seeing the unity among all of these awesome women as they come together to accomplish something great. As our membership makeup changes, I love playing a part in developing future leaders.
New members develop themselves and their skills in the League and then go on to serve both the League and our entire community.
In many cases, the League is grooming the next season of community leaders, who come up through the ranks using Junior League as a launch pad for leading other organizations. They continue their work in the community beyond Junior League, but they got their start here.
How did you become involved with Junior League of Pensacola?
A high school friend of mine, Kendra Fendt, was involved with the League and she suggested it to me. We were talking about work and life when she said the Junior League would be a good place for me to fit into their community impact, and that I could make a real difference in the League. Despite Kendra's enthusiasm for it, I did not think I was "League material". It was certainly not my intention to serve as Chapter President.
My reason to join was, ultimately, to meet people. Pensacola, FL, is my hometown. I moved away and, when I came back, I needed to reintegrate myself into the community. I wanted to network, to make professional connections for work. It has become so much more that I never really expected it to be. I fell in love with the organization and what it stands for.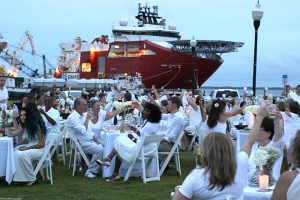 Is Junior League of Pensacola involved in any upcoming events?
Our major fall fundraiser, Red Haute Royale, is around the corner on October 20th at Skopelos in New World Landing. It's a sell-out casino themed affair with gaming, a silent auction, music, prizes, delicious food, and fun for a cause.
Next spring, we're bringing our favorite regional retailers and restaurateurs together for Market Basket, an upscale tasting and shopping experience.
Our fastest growing fundraiser is Evening in White, which is truly magical — not to be missed! Inspired by the Parisian Dîner en Blanc, the event location is a secret that is only revealed on the day of the event. Guests dress elaborately in white, bring food and decorations, and join each other in an opulent picnic. Beyond the spectacle and elegance of the event itself, guests are brought together from diverse backgrounds by good taste, good food, and joie de vivre.
What is one thing you want readers to know about Junior League of Pensacola?
The Junior League has made changes in recent years to meet the shifting needs of our current and future members. We wanted to attract women representing the full spectrum of experience, and for them to be able to come together and focus their energy on ways we can be most impactful. We are a diverse, vibrant, and multigenerational group. We are busy, capable women with responsibilities, families, and careers who nevertheless find a way to make community service a priority.
How can someone become involved?
Junior League membership is open to women of all races, religions, and national origins who demonstrate an interest in and a commitment to voluntarism. Members come from all walks of life – corporate executives, business owners, teachers, students, attorneys, physicians and stay-at-home moms. But all members have one thing in common…a heart for building a better community.
The Junior League of Pensacola is currently accepting applications for its 2018-19 new member class. To learn more about membership and events visit juniorleagueofpensacola.org, or email info@juniorleagueofpensacola.org, or call (850) 433-4421.