story by Greg Alexander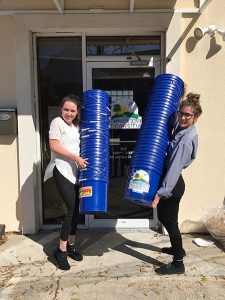 Many of us take for granted the beautiful landscape of our public areas, clean beaches, and greenspace. The beauty, the natural habitat, and the usability of sidewalks and street crossings are all key traits that contribute to the magnetism of our area. But if these spaces were littered with trash, these amenities would become less desirable. Fortunately, we have an organization that exists to not only help keep our area clean, but to educate and support initiatives on keeping the city looking its cleanest. Keep Pensacola Beautiful is that organization, and their mission includes the belief that quality of life in Escambia County is dependent on our ability to preserve and enhance our environment. KPB is the local affiliate for Keep America Beautiful and is one of 42 affiliates just in the state of Florida and over 600 nationwide. All of their programs focus on litter removal and prevention, recycling education, and community beautification.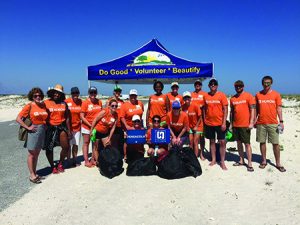 The team at KPB divides their operations up by services and programs. They maintain a couple of contracts with Escambia County that involve sanitation services. They work on restoring three local, historic cemeteries. Additionally, other services help to enhance the local living conditions such as emptying trash bins at many parks and boat ramps, roadside litter removal, assistance with CRA neighborhood cleanups, and sometimes assisting Code Enforcement with remedying residential violations that have to do with litter or lawn maintenance. One of their services, called The Clean Team, is an event cleanup service where they always strive to leave the event area cleaner than they found it.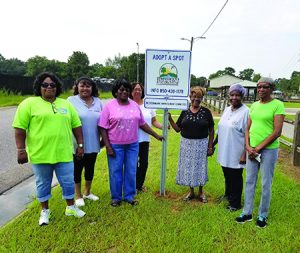 KPB offers programs that rely on grants, donations, and any income generated from their services. They have just begun to host annual fundraising events like their Mini Golf Tournament, which took place in February. Coming up this year in June, they will have a paddleboard and kayak race called Battle for the Paddle, and in the fall, they will host a Garden Party to thank all of the volunteers, sponsors, and contributors. These events will further support education initiatives, recycling events, and beautification projects.
Interview with Sigrid Solgard –Executive Diretor of Keep Pensacola Beautiful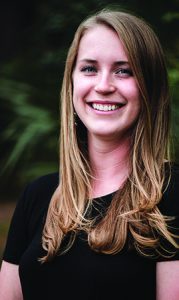 What impact has Keep Pensacola Beautiful had on the Pensacola community in the last year?
In 2018, KPB had over 1,000 volunteers who put in 2,000 plus hours of volunteer work in the community. Through all our litter removal programs combined, staff and volunteers removed thousands of pounds of trash from beaches, roadways, parks, and other public spaces. We have planted 45 trees, recycled 1,000 ink cartridges, 200 car tires, and other hard-to-recycle items like e-waste. We also worked with kids in grades K-6 on educational activities from our Waste In Place curriculum. These activities focus on cultivating individual responsibility and informs kids on the impacts litter has on our community and the environment. 
How did you become involved with Keep Pensacola Beautiful?
My background is in marine biology and I was very interested in the issues of marine debris and microplastics. Because of these interests, I was drawn to KPB's mission of litter prevention and I started as their Education and Outreach Coordinator in 2016. In 2017 I received a promotion when the position of Executive Director became available. These past two years have been challenging yet incredibly rewarding.
Is there a staff or is KPB volunteer driven?
KPB has 13 staff members. Three full-time and 10 part-time. Most of our part-timers are the staff of The Clean Team, our event cleanup service. We also have a volunteer board of directors and are lucky to have two AmeriCorps VISTA's this year.
Is Keep Pensacola Beautiful involved in any upcoming events?
Keep Pensacola Beautiful has events every month of the year. March, April, and May is the Great American Cleanup. March was a series of Clean Your Block events where we partnered with neighborhood groups on large-scale cleanups. April is the Plastic Bag Swap where community members can bring in a bundle of plastic bags to trade for a reusable tote bag. Coming up in May will be Paint Your Heart out, where we accept nominations for people who may need extra assistance with exterior home beautification. And look for our World Ocean's Month events in June! We are always looking for volunteers to get involved with us on these efforts!
What does the future of your organization look like?
We have big plans in the works! We intend to keep growing to improve the scope and quality of the programs we offer, and the services we are able to provide. We are currently in the process of obtaining our very own building for the first time. So, keep your eye out for opportunities to get involved in that project.
What is one thing you want readers to know about Keep Pensacola Beautiful?
Living in a vibrant, beautiful community is good for our mental and physical well-being. We want our community to know that we are here and want to assist with efforts to improve this amazing place we live in. Many people ask what is the point of picking up trash when more just ends up there. According to research, people tend to be tuned-in to social norms, and it has been demonstrated that people are more likely to litter in an area that already has a significant amount of litter.  The same is true the other way around! If people see an area that is clean, and well-maintained, it is assumed that littering is not an acceptable habit at that location and they are less likely to do it. Now this is not the only answer of course. Many of our educational initiatives stress the importance of finding alternatives to single-use plastics, reducing, and reusing to reduce the amount of trash we generate in the first place.
Find out more at www.keeppensacolabeautiful.org, or on their Facebook page about getting involved, becoming a member, or donating.