Q & A with Sid Williams-Heath,  – Executive Director, Pensacola Little Theatre
 How long have you been involved with Pensacola Little Theatre?
I joined the Pensacola Little Theatre team in March 2017. My husband and I were moving to Pensacola (or back to Pensacola for him, rather) from New York City. I had previously been working in the administration of the Savannah College of Art and Design, another nonprofit centered around the arts.
 How did you become involved?
My husband Nicklaus acted at PLT and the Pensacola Children's Chorus as a child, and so this was a heart-warming full-circle way to get acclimated to Pensacola. My passion is advocating for the arts from the business and public relations side, and PLT was the perfect fit. Luckily, some of my friends on the Board of Trustees at the time thought so as well. My background in public relations and nonprofit networking sealed the deal. Though you're unlikely to find me on stage in a PLT production, rest assured I grew up the most dramatic kid on the block.
 What is the most rewarding part of your involvement with PLT?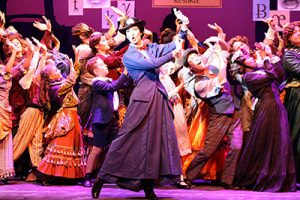 PLT touches everyone in the community. We have made great strides to move from being just community theatre, to being recognized as the community's theatre. As a 501(c)3 nonprofit organization, we rely heavily on community support, so I've worked hard to give back that same great support to the community. Whether hosting a pet adoption day or collecting winter-wear for the Gulf Coast Kids' House, we understand that it takes a village. Partnering with other diverse nonprofits to give us all a louder voice has been one of my most rewarding experiences while at PLT.
 Where does the primary funding for PLT come from?
Thankfully, PLT's primary source of funding is admission, and that really speaks to the quality of the art made in the theatre. We are not a travelling professional theatre troupe whose actors you won't recognize personally. But we couldn't thrive without community support. We create art for the community – by the community. Other major sources of funding include our education department tuition, private donors, state grants, and fundraising efforts. Our two largest fundraisers are a spring Cabaret theatrical celebration and our fall Raffle Benefit.
 What impact has PLT had on the community?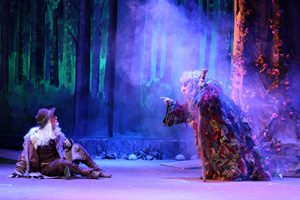 Pensacola Little Theatre owns and operates the Pensacola Cultural Center, which means our space is the community's space. Whether supporting local visual artists, showcasing diverse dance groups, hosting corporate seminars and festivals, partnering with other local nonprofit organizations, or providing an opportunity for worship – we are here to give the Pensacola community a diverse cultural experience (all while still making great art ourselves.)
You'll find Studer Community Institutes' EntreCon and CiviCon in the same space you'll find Pensacon and the local Human Trafficking Task Force. You can visit Ballet Pensacola or Liberty Church within the same walls hosting the Stamped LGBTQ Film Festival.
And the arts mean business. PLT contributes hundreds of thousands of dollars to the economy each year, and Visit Pensacola will be the first to tell you how vital Pensacola Little Theatre is to cultural tourism.
What are some upcoming events/productions you are excited about?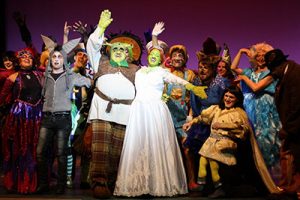 Each year, our annual Cabaret fundraiser boasts a revolving theme and transforms the theatre and surrounding block into an indoor/outdoor entertainment complex, perfectly fusing local talent to showcase art as the life of the party. We present Cabaret: Phantom of the Masquerade this year, which features five open-bar venues transcending guests through the most iconic pieces of Broadway's longest-running show, The Phantom of the Opera. Guests will enjoy gourmet cuisine by David Penniman's Classic City Catering and experience the Paris Opera House chandelier, the phantom's candlelit lair, and Christine's iconic dressing room..
After the rave reviews of Cabaret: Midnight in Paris last year, we are keeping the lavish momentum going with luxurious gowns, black ties, and mysterious masks. And we're introducing an exclusive Music of the Night VIP room with private performances, champagne flowing, and a maximum of 100 skeleton key tickets available.
Funds raised through Cabaret allow PLT to keep ticket prices low, offer outreach programs that inspire children in underserved and at-risk communities, and provide the entire community with entertainment and creative opportunities. The black-tie masquerade is set for March 30 and tickets are available now.
 What is one thing most readers do not know about PLT?
As the "Little Theatre", we are often misconstrued as simply children's theatre. And while yes, we certainly love our Treehouse series of shows for young audiences, we truly do theatre for everyone – including the shows that you may not feel comfortable bringing grandma to see. Our Mainstage series produces the classics – think Mary Poppins, My Fair Lady, or Steel Magnolias, while our Studio 400 series produces edgier, more thought-provoking works. Our upcoming production of Venus in Furis a challenging tale of sadomasochism – so no, we're not just the Little Theatre for little people.
 Are there volunteer opportunities?
On the contrary – there are nothing BUT volunteer opportunities. Other than our small (but mighty) staff, PLT is a completely volunteer run organization. The art we make – including the actors, directors, set designers, costumers, ushers, and stage managers – is all executed by a dedicated corps of volunteers. Annually, nearly 80,000 hours of service are completed by almost 1,000 volunteers at PLT. Let that sink in. A production of Into the Woodscan cost more than $55,000 to produce – and we don't pay anyone to perform. That's why community support is so important. We welcome anyone and everyone to come play with us.
 What educational opportunities exist through PLT?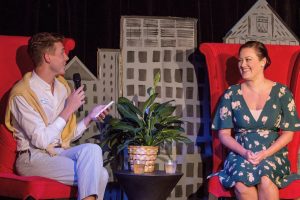 The education department at PLT is maybe the nearest and dearest to my heart. Yes, we make theatre and hope that we'll produce the next Ashley Brown to originate a role on Broadway (who actually came to speak to our actors during our summer production of Mary Poppins) – but it's so much more than that. These kids (and adults) gain self-confidence, public speaking skills, ability to recognize point of view and perspective, and gain a sense of cultural diversity through our education department. We offer classes year-round for all ages, with our summer programs being our most popular. In addition to classes withinPLT, we also have a traveling theatre troupe called Beyond Boundarieswhich takes arts education into Title I schools, nursing homes, community centers, libraries, and an array of under-served communities. This outreach is free of charge and geared toward an audience that cannot come to us, so we go to them.
The schedule of classes is located on our website, www.pensacolalittletheatre.com
 How can a person know what is going on/upcoming?
Social media is a tried-and-true way to stay updated on our calendar of events, auditions, rehearsals, productions, and community events. We also send out a monthly newsletter to more than 12,000 patrons with events specifically coming up for that month. Anyone is welcome to join our mailing list, which you can access through our website.
But the best way to stay acclimated with all going on at PLT is to visit us downtown at 400 South Jefferson Street. The Pensacola Cultural Center is available for tours of the building, and the Box Office is open Monday – Friday, 12:00 – 5:00 pm.