story by Greg Alexander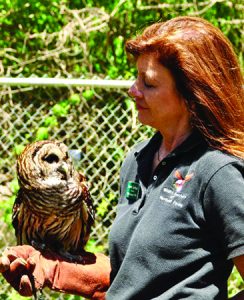 Just in the heart of the city of Pensacola lies a small refuge for every sort of regional wildlife creature. The Wildlife Sanctuary of Northwest Florida, located at 105 North S Street, opened its doors in 1982 providing care for injured or orphaned indigenous wildlife and is now celebrating its 37th year as a non-profit 501C3 organization. They provide medical care and fostering during recovery, rehabilitate, and release wildlife when possible. Working in cooperation with local, state, and federal wildlife agencies, the Sanctuary takes in over 3,000 injured and orphaned animals each year, the smallest of such include hummingbirds and baby flying squirrels to the largest like bald eagles, black bear, white-tailed deer, pelicans, and much, much more. The Sanctuary also provides educational outreach and conducts educational programs.
The Wildlife Sanctuary of Northwest Florida is one of only nine in the state of Florida permitted for eagle rehabilitation and display.  The Sanctuary has four permanent bald eagle residents and two that are currently in rehabilitation getting ready for release. They also network across the state with other facilities for the care of bobcats and eagles as well as other species indigenous to Florida.  The facility has successfully networked with the American Eagle Foundation in Tennessee for over 20 years for the care and release of eagles.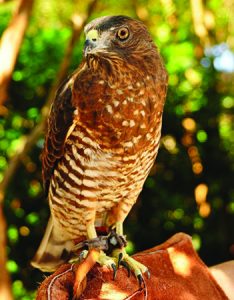 Some new additions and recent upgrades to the facility the public will enjoy seeing were provided by Eagle Scouts this past year. The public observation deck by the pelicans was rebuilt, new signage and informational areas providing details about the bald eagle development was installed, QR codes on the wing span cut outs telling about each raptor was made available, and two new photo opportunity signs of an eagle and a pelican were installed. There is also a brand new floating pelican platform and two owl baby nurseries for visitors to enjoy. Also built by the Eagle Scouts were some picnic tables in the front, perfect for groups or for families to take a break before or after their visit in this serene environment.
The summer season is the perfect time to start volunteering at the Sanctuary.  A full detailed page is available on their website at Pensacolawildlife.com. The Wildlife Sanctuary also offers a summer and fall internship program to get even more involved. The internship application is found on the website under Intern Programs. The Sanctuary networks with University of Florida, University of West Florida, Pensacola State College, and colleges throughout the states with intern programs. The Sanctuary fundraises through a quarterly membership newsletter, supply drives, and outreach programs. Their thriving aluminum recycling program is in its 11th year and is going strong. The community and area businesses play a vital role in the Sanctuary's continued success through sponsorships and outreach.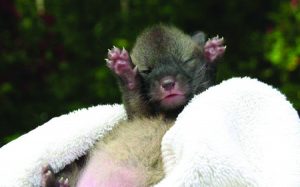 For those of you interested in seeing the animals and how they have rebounded from care at the sanctuary, self-guided tours are available Wednesday through Saturday from noon to 3:30 pm at a cost of $5. Group tours are also welcomed by appointment.  Animal drops are encouraged 7 days a week from 8:00 am to 5:00 pm. If an animal is found after hours that needs help or care, an overnight care guide is available on their website at Pensacolawildlife.com that will assist in caring for the creature until morning opening hours.