photos provided byHealing Paws for Warriors| story byGreg Alexander
In 2015, the idea of service dogs for treating veterans was discussed by a few local community members. It was Sheila Hale and Mike Arena who co-founded Healing Paws for Warriors and have remained the backbone of the nonprofit as they continue to be heavily involved in current day-to-day decisions.  It is a resilient program that represents veterans helping veterans from personal experience and trained service dogs. HP4W's is a volunteer-based program whose supporters have big hearts and are dedicated to supporting our military men and women.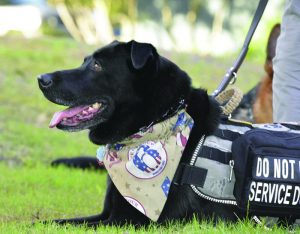 Sheila has cultivated the program from infancy, creating and executing the policies and procedures, logo, website, social media, and fundraising. She serves as a wizard behind the scenes making all program areas function and she selfless gives of her time serving as director of operations and program manager.
Mike serves as the executive director and is on the frontline with his service dog Orion. Working with each veteran during service dog and resilience training and promoting community awareness and support are part of Mike's responsibilities. Also, after veteran and K9 graduation, Mike personally follows up with each team creating an ongoing family program environment.
Sheila, who is a 27-year government employee, met Mike, a retired Air Force medic who served over 23 years, and realized that he was one of those veterans who struggled with battle-field traumas from serving his country.  She had heard of a service dog program and the difference it was making to veterans when they returned home from deployments. Sheila encouraged Mike to attend a service dog program. After Mike returned from the program, everyone realized that the dog (Orion) and the program made a difference and for the first time, Sheila saw Mike's smile. From that smile, she knew that she needed to step up and do what she could to bring the program to the local area.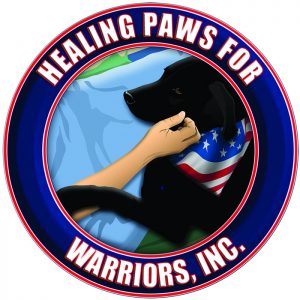 HP4Ws services the Florida Panhandle population. The Emerald Coast is home to the largest military population within the state.  It is estimated that more than 63,000 veterans and approximately 50,000 active and reservists reside in the Florida Panhandle. HP4Ws program targets approximately 10,000 warriors in the area who have or are experiencing post-traumatic stress (PTSD).
For veterans interested in the program, applications are located on the HP4Ws website, or call 850-716-8198. To volunteer to support the HP4Ws mission or to donate, please also visit www.healingpawsforwarriors.org. If you know of an organization that would like to learn more about service dog benefits and have a guest appearance, please contact: https://www.healingpawsforwarriors.org/events.