Dog-Harmony, a non-profit 501(c)3 dedicated to reducing the shelter dog population through ongoing humane education, has released a children's book to further their mission of keeping dogs out of shelter's through education.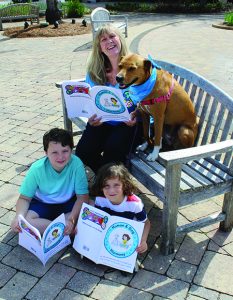 Locally renowned artist Robin Wiesnthe recently collaborated with Dog-Harmony founder Nancy Bown to illustrate Human and Dog Harmony.  "The book is designed to teach responsible dog ownership and will be used in our humane education children's programs", said Bown.
Bown was introduced to Wiesnthe during a book signing for Tails of the Imagination, Wiesnthe's first book dedicated to dogs and cats in shelters everywhere; waiting for a chance to meet someone who will love and take care of them.  Wiesnthe says, "that we are all underdogs in some way, even the brightest of us can feel small, helpless and lost. Shelter pets remind me that everyone matters."  Bown used the book in many reading programs with her therapy dog Sydney.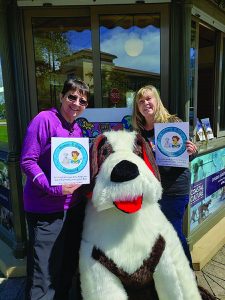 Nancy had been trying to add a whimsical book to the current humane education curriculum when she received Wiesnthe's offer to illustrate and layout some fun materials for the workshops.  "The information in this book is so important for children to learn, by teaching responsible dog ownership at a young age we can cultivate adults that view dogs as family members not possessions, reducing the shelter pet population," says Bown.   The book will be used in programs designed for at risk youth, shelter workers and children's reading programs.  Civic organizations interested in sponsoring a workshop should contact Nancy Bown at www.hello@dog-harmony.org.
Dog and Human Harmony can be purchased from the Dog-Harmony website dog-harmony.org or their kiosk in Grand Boulevard.  Proceeds from the book will support educational programs in our community.
Dog-Harmony Inc. is a different breed of rescue.
Dog-Harmony is a non-profit 501(c)3 dedicated to reducing the shelter dog population through ongoing humane education.
Founded by professional dog trainer Nancy Bown, CPDT-KA, the non-profit works to build positive relationships between canines and humans – preventing dogs from becoming homeless in the first place.
What makes Dog-Harmony different? In addition to training dogs, they work to "train" the public and pet parents.
For adoptions, individualized attention is given before, during and after to make sure the new family has the right tools to build a successful life together.
The key element is education – of humans and dogs, no matter what age.
The programs are low-cost or free, and include: Humane Education, Microchipping, Spay/Neuter Scholarship and Transport, Adoption, and Prong Collar Alternatives.