Let the Good Doughs Roll
By Liesel Schmidt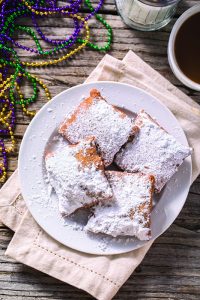 If you've ever been to New Orleans, the word "beignet" is one that likely brings with it a sensory memory of addictive and fragrant squares of fried dough whose soft, pillowy texture is made even more irresistible with the addition of a healthy dusting of confectioners' sugar. So synonymous is it with NOLA cuisine, in fact, that the beignet was declared the official donut of the state of Louisiana in 1986, though some would probably argue that this tasty confection leaves the ordinary donut in its dust.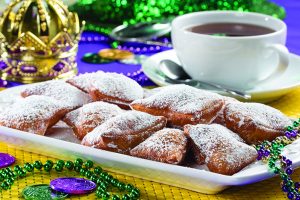 A pastry whose origins can be traced back to ancient Rome, the French style that is now so highly revered throughout the French Quarter was brought to New Orleans in the 18th century by French colonists. Despite the fact that some variations may include the use of banana, plantain, or berries, traditional beignets consist simply of deep fried choux dough that has puffed up to achieve something light and airy, their golden color offset by the snowiness of the finishing toss though sugar they receive after being removed from the oil. And while some might consider it a breakfast or brunch dish, a case could well be made that there's no wrong time to eat a freshly fried beignet.
Naturally, a well-made beignet is not to be missed; but to truly appreciate this heavenly confection at its finest, one must indulge when they are hot. Served fresh and with a cup of coffee, there's no greater experience, no better homage to The Big Easy than the beignet. One taste, and you'll swear your taste buds are doing the Second Line.