Interview with Marty Tackett – Founder of Martha's Vineyard: The Family House
Why were you led to start Martha's Vineyard?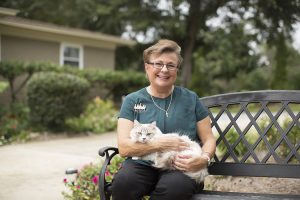 My husband, Dennis and I had moved to Pensacola to "slow down". Dennis had been an attorney and pastor in Indiana where we raised 5 children. I worked on a specialized neonatal-pediatric flight team for almost 25 years in Louisville, KY. We also transferred high-risk moms and cardiac patients.     In April of 2009, Martha and Steve Rouse were coming through Pensacola on their way to Bike Fest in Panama City with another couple on their bike behind them.  Something sliced through their back tire landing Martha in a coma and Steve in a wheelchair and air cast when Dennis caught up with him and his family already in from Tennessee. Dennis asked them where they were staying. "In a Comfort Inn as long as they could."  Dennis invited all of them to our house.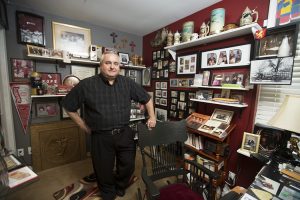 While they were staying with us, I had a dream in which I was told to sell our beautiful home, find a home in a great location, call this home "Martha's Vineyard of Pensacola," and take in families like the Rouse's the rest of our lives. I argued in my dream that the name was dumb, that someone else could do this job much better than I, and that no one would believe me anyway.  In August of 2009, we purchased the property.  It needed work, but 14 months later with more than 150 volunteers, we took in our first family November 2010.
How is Martha's Vineyard funded? Initially, Dennis and I funded this house. We had very few donations. We were not a 501 C-3 the first 4 years. We used all of the equity of the sold home and my entire IRA from my retirement to fund this home. In January, 2015, local charity foundation Christian Ministries came to us providing assistance with our 501 C-3 certificate and a monthly stipend that funds the day-to-day operations. Through other charitable donations, we have kept up with all of the repairs, etc. that this house has required.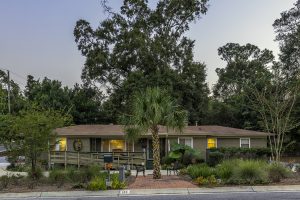 How do families/guests know about Martha's Vineyard? Primary source of information is nursing staffs and hospital chaplains, but word-of-mouth through the community is also growing
What has been the most rewarding part of your time at Martha's Vineyard?  Being a listener to those family members who stay with us. Dennis has coined this saying, "Love, love. Listen, listen." It is in this "home-like" atmosphere that people can open up and feel ok to share what, why, and how they are feeling. We cook a lot of homemade foods for these families.
How has Martha's Vineyard had an impact on the local community? Dennis and I have seen a virtual change locally in the attitudes of how important this house is not just for our houseguests but for the community too. A sense of pride, community spirit, and unity that we are all in this together exists.
How many guests/families have been helped? Since inception, we have assisted over 1030 family members. We have provided 16,622 nights of lodging at no cost, 33,726 meals, and 7,811 loads of laundry so far. The Vineyard Family house is 2200 sq. feet.
What does the future of the organization look like? We are currently looking at a larger home, a former bed and breakfast that could house 8 or more people. Our greatest challenge, presently, is having the funds needed to purchase a larger building.   Visit www.vineyardfamilyhouse.org or www.facebook.com/vineyardfamilyhouse,or contact Marty Tackett at 850-287-2144.