By Liesel Schmidt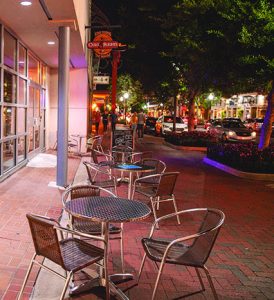 They say that two heads are better than one; but so, too, are two passions. And, in the case of Casks & Flights, it was the combining of two heads and two passions that took a modest vision to a fully-fledged brand with legs to stand on—and a product that would have customers thirsty for more.
The story started simply enough—much the way that that of many other cottage industries do, in fact. There was the garage-born endeavor brought to life through trial and error, research and testing, tweaking and re-tweaking. And while former loan officer John Wilson tinkered his way through recipe after recipe to land on one that finally brought his love of wine and the desire to create his very own label to fruition, it was his fortuitous partnership with fellow wine enthusiast and friend John McCorvey that ultimately took the simple beginnings of a wine company out of the garage and into a viable location.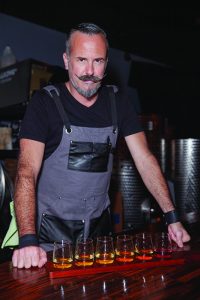 Naturally, all of the expected challenges were there for Wilson in the beginning—financing, equipment, facility space. But so was the challenge of sourcing the ingredients for the wine itself, as Florida's steamy climate often makes the task of growing grapes an arduous one. It was this initial challenge, however, that brought him to the realization that he could do something different, something that would make him stand out—and that was the very thing that is literally now causing all the buzz.
Rather than using grapes for his wine, Wilson began using honey and creating mead, an ancient fermented drink that dates back to years B.C. Now sourcing local honey to craft their mead, Wilson and McCorvey have combined forces to launch Swan Neck Winery, their independent label of mead and wines that are all handcrafted with care in their new facility at Casks & Flights.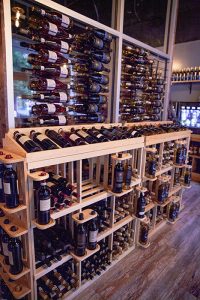 While the fermentation process happens in their cask rooms, their guests sip and savor the taste of their dreams brought to life, happily taking seats at the bar or at the table to sample flights of their products or try out a few of the local craft beers and award-winning wines that also share space on the menu. Having opened in late summer of 2018, Casks & Flights offers quite the impressive menu of drinks, boasting more than 70 wines as well as a small assortment of craft beers. As one might expect, however, it is their Swan Neck Winery offerings that truly claim pride of place, as the flavors of their site-made wines and meads number in the triple digits.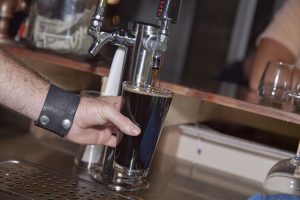 Such high numbers could present a challenge in itself, but Wilson and McCorvey's plan for Casks & Flights managed to lay that test to rest though their tasting events, their menu of unique wine- and mead-based cocktails, and their tasting flights. "The very moment our guests walk in, they're greeted with a smile from someone who can show them what we have on-site," says Wilson. "Our goal is to give them the best tasting experience they've ever had, and to present them with a different one each time," he goes on. More than just a tasting experience, however, Wilson and McCorvey want their guests to experience true connection to them and to their staff. "This is a place where people will know your name and remember your visits; they'll greet you like family; and, most importantly, they'll care about the experience you have, every time you walk through the door."
Casks & Flights is located at 121 S Palafox Place, Suite B, Pensacola, Florida 32502. For more information, call (850) 495-3897 or find them on Facebook.
Blood Orange Wine-sicle
Ingredients:
4 oz. Prosecco or Moscato of choice
2 oz. Blood orange juice
2 oz. Swan Neck Winery Honey Orange Mead
1/2 tsp. Vanilla extract
1 Fresh mint leaf
2 wedges apple
Directions:
In a cocktail shaker, combine first four ingredients together, shaking until thoroughly mixed. Place mint leaf in the bottom of a tall glass and strain contents of cocktail mixer into the glass, allowing to sit for two minutes before stirring. Garnish with apple slices and serve.