Story by Liesel Schmidt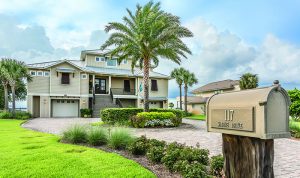 As all good real estate specialists know, there are rules to perceived value in a home and mottoes that they abide by. While "Kitchens and baths sell a home," and "Location, location, location," might trip easily off the tongue, there's an unspoken selling feature that also lands at the top of the list—at least, when you're talking about meeting the needs of a woman.
Closets.
And we're not talking the standard size walk-in that does just enough to accommodate the bare essentials of the master couple that claims the master suite. We're talking closet space enough to store shoes, bags, clothes, and accessories in a way that displays them in all their glory, creating a veritable boutique of sartorial storage that's all about you.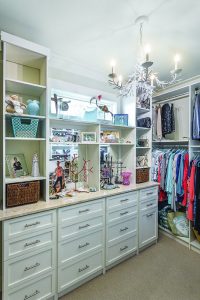 It could sound a bit over the top to some, but for real estate agent Elaine Davis, that's exactly the vision she had in mind when she and her husband Brooks designed their 3,600 square foot home in 2013. The home itself is the very picture of coastal calm, with each space of the three bedroom, three and a half bath house washed in greens, blues, and light sandy tones reflective of the sweeping water views just outside their many windows.
Perfectly positioned right on the Santa Rosa Sound, the Davis home certainly checks the box when it comes location—and it's one that's actually been in the family for decades, first owned by Brooks' parents, who passed their "piece of paradise" onto Brooks to build a new home after the original cottage was claimed by the merciless hand of Hurricane Ivan. The couple built their new home from the ground up, and since its completion, the house has truly been a sandcastle worthy of its surroundings.
Boasting luxurious marble countertops crowning custom white cabinetry in a spacious, open floor plan that flows seamlessly into dining and living areas, the kitchen is also one major check-mark to behold, with chef grade appliances, a massive center island, and a sea glass backsplash that truly continues the water theme that seems to drift throughout their design. There's not one element in this spacious home that doesn't make a splash, in fact—transforming something so simple as pantry doors into a conversation piece that—much like the family land—is a nod to family history. "They're really special, because they've got inserts from saloon doors that were in my childhood home in Miami inlaid into them, and I just love seeing that," Elaine says of the one-of-a-kind white doors that offer the shell-bedecked glass panels a new place to shine.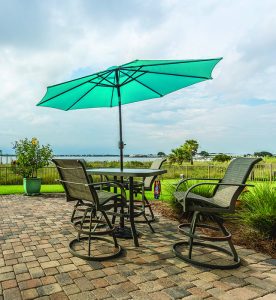 From the light tones of the oak hardwood flooring that flow continuously from one spacious room to the next to the exposed beams and tray ceilings, the Davis home feels open and airy, the perfect place to host their never-ending stream of guests. "Our home was built for company, and it stays very full," explains Elaine, who loves spending time fishing, relaxing, and entertaining out on the back decks and docks with Brooks when he casts off his buttoned-up attorney attire to show off his skill at the Big Green Egg. "Some people think we're crazy to have so many guests all the time, but we love it!"
But at the end of the day, it comes back to the master suite—a luxurious oasis of space to relax and refresh, a sanctuary and an escape. And while the marble and lavish finishes of the en-suite bath are certainly a jewel in the crown of this home's design, the closets are what takes one's breath away as the standout feature that makes the Davis home so uniquely personal.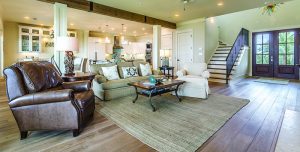 "I've always loved clothes, shoes, and shopping, and I feel like that was inherited from my glamorous mom—she wore her heels and looked fabulous, even when she wasn't going anywhere but the grocery store!" Elaine recalls with a smile. "I can remember playing in her closet when I was a little girl, watching her get dressed to go out. I'm not quite that dress-up—especially given the beach lifestyle that Brooks and I live—but my closet is still absolutely a dream space," she says, going on to describe both the ingenuity and functionality as well as the aesthetic appeal of the "his" and "hers" closets that were custom designed with the guidance of Kathleen Ryan at Alpha Closets. "Every single area and drawer is a well-designed space that works perfectly for the longer length of my clothing—Brooks and I are both tall, so that was definitely a consideration to keep in mind for both of our separate closets—and my 'hers' closet is definitely all about me. I have drawers for undergarments, socks, workout clothes, casual shirts, scarves, and jewelry. Some areas are movable and some are stationery, and there are even baskets that pull out, belt racks, and hooks for hanging whatever I'm planning to wear for the day. My shoes have their own wall, and the whole room is really an incredible use of space."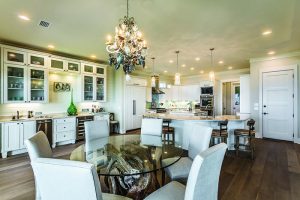 Incorporating a transom window to pour in natural light, mirrors that add to the feeling of lightness and spaciousness, cubbies for purses and bags, high marble countertops, and even a white coral chandelier to set the scene aglow, Elaine's closet is very much her favorite place to be. "It's girlie, I know—but that's what I love about it!"
Ask Elaine and she'll certainly tell you that kitchens and baths might sell a home—but it's the closet that can make you fall in love.