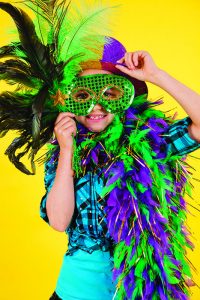 Mardi Gras. Shrove Tuesday. Fat Tuesday. Whatever name you know it by, chances are you're familiar with this free-for-all festival of fun, when people use any and every excuse to let it all hang out and party like it's their last hurrah. And really, that's what this carnival celebration is all about—indulging before the fast. Traditionally speaking, Mardi Gras, as it's most commonly called in the good ol' South, where this parade of events is a season unto itself, is intended to be an opportunity to get in all of those rich, fatty foods that go on the no-no list during Lenten season fasting. Hence the name Mardi Gras, which is French for "Fat Tuesday." And as the day before the official beginning of Lent, it is best to indulge as much as possible. After all, Lent brings with it penitent reflection and turning from the wicked ways of the flesh, ushering in a time of confession. And when you're getting ready to be good, there's never a better excuse to be as bad as you can be…and Mardi Gras absolutely revels in it.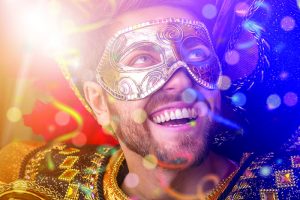 In the Gulf South states especially, Mardi Gras season has taken hold with gusto, unfolding in a series of parades, festivals, balls, and parties that really let the good times roll, beginning at Epiphany and ending the Tuesday before Ash Wednesday. That's a whole lot of fun to be had; and cities like New Orleans, Mobile, and Pensacola love festival season with a mad passion, constructing elaborate floats manned by Krewes whose sole focus is making the party as big, bold, bright, and loud as possible. Hitting the streets with parades that show off their dedication to debauchery, these so-called Krewes are like the official Mardi Gras masters, complete with creative names; royal courts full of appointed courtiers and even coronations; and calendars of events that pack the entire year in preparation of the main affair. It's a "mystic" thing, with mystic societies that keep it all in good fun but still manage a bit of angelic behavior as well, often pooling their efforts and socially active presence to do charity work throughout the year.
As Mardi Gras season rolls through the South, get in on the fun. Whether you're a serious partier or just want to celebrate with your friends, you'll have the perfect excuse to live it up a little—to explore the fun vibe of the city, to collect those infamously gaudy strands of Mardi Gras beads, and indulge your inner rebel. So put on your party clothes and step out for some fun—just keep your head up and your hand out to catch the excitement. And get ready to lay-on the beads!