by Courtney Murray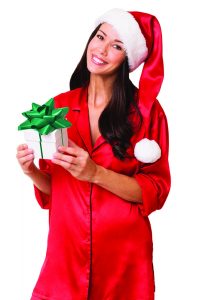 Silk, crisp cotton, thermal, and cozy flannel…these are some of the many options for sleepwear fabrications. Pajamas have not always been so glamorous. Until the 1800s sleepwear was more of a necessity and less of a fashion statement. People either hit the hay in their daytime clothing or slept in their tunic and undergarments. Luckily, times have changed, and along with it sleepwear has thankfully evolved.
Every woman should own one luxurious silk pajama set. This can come in a variety of cuts and designs. You can't go wrong with a long sleeve button up top and loose fitting pant set. If you're looking to step out of the box a little you can incorporate the lace trend with a sexy cami and short ensemble. The color and pattern options are endless; a basic black or white set says class while polka dots or stripes can spice things up a little bit. Florals are super on trend this season and are being seen everywhere from the runway to home decor. A watercolor floral set will have you looking fashion forward under the sheets while making you feel feminine and pretty.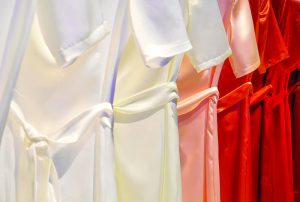 Ready to wear trends are also transferring to the bedroom. PJ's are being seen with lots of ruffles, flutter sleeves and pom poms. Just because you are sleeping, doesn't mean you can't be on trend and look fun while doing it.
Dressing gowns are a sleep item that have been around forever and are now more elegant than ever. A comfortable cotton short robe with a tie waist is always a favorite, but you can shake things up with a festive print or ruffle trim. Silky robes are a sexy sleepwear stable and eyelet lace is a fun and feminine addition. If you're a girly girl, a whimsical tiny floral print is right on trend and will continually brighten your mood and bedroom each and every time you wear it. If you're looking to get a little more adventurous, animal prints are the way to go. Leopard print is being seen everywhere this season, and sleepwear is certainly not excluded.
When the weather starts to cool down it's time to start layering up before bedtime. Cuddle up by the fireside with your favorite book and a mug of hot cocoa in a tried a true classic that's making a comeback; the plaid flannel pajamas. Looking for the most adorable family holiday card? Picture your entire family clad in plaid. Buffalo plaid is having a major moment and is the perfect combination of old school and modern. Every age and gender will love these pajamas including everyone from grandma and grandpa to your newborn. Nothing is quite as cute as an infant in a snuggly plaid onesie.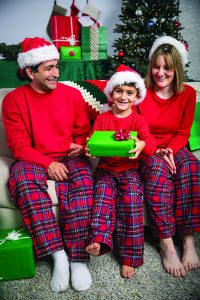 Men's sleepwear is more basic than women's, but they are definitely not skimping on comfort. The trend towards more decadent fabrics is taking off. Ultra soft sweats and a T-shirt will always be a menswear sleep staple, but now you can play with the silhouette. Slouchy joggers with a slimmer cut and a pocket T are a more modern spin on this casual look. Every man also should invest in a great pair of slippers. You can go traditional with a slip on style, opt for a short shearling lined bootie or try out the loafer trend. A driver style loafer slipper with embroidery like a skull and crossbones adds an edge to your sleepwear outfit, while a velvet pair with a tassel screams high class. Whether you are basic or daring when it comes to fashion, don't forget that the runway isn't the only place to try out the latest trends.