Story by Liesel Schmidt | Photos by Visit Pensacola
The flying beads, the colorful costumes, the massive floats…When it comes to Mardi Gras, there's nothing that says it's party time more than the parades. But without the krewes whose names emblazon those floats and help organize the official festivities, the downtown streets that come alive each year during this Fat Tuesday festival would quietly go about their daily business, devoid of the excitement and excess.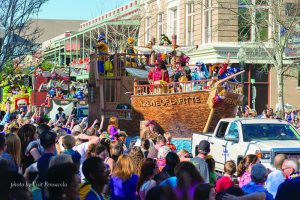 So just what is a krewe? The official term for the New Orleans clubs that organize the Mardi Gras festivities, the word "krewe" was coined by The Mystick Krewe of Comus, a group credited for New Orleans's first parade with themed floats in 1857. In addition to the parade, they also started the tradition of wearing masks and carrying torches to illuminate their revelries past dark. Interestingly enough, the city of Mobile, Alabama, had been hosting similar festivities since the time of French-Canadian explorer Pierre Le Moyne d'Iberville's landing in Mobile—which he called Point du Mardi Gras—on Fat Tuesday in 1699.
In their modern iterations, krewes are formed by various groups for various reasons, from promoting businesses or clubs to representing charities or even "just because." Whatever the reason, they're all there for one thing: to let the good times roll. Naturally, each city has their own unique krewes, and in Pensacola, the list of krewes that parade themselves down the street each year is nothing short of impressive.
Pensacola Mardi Gras Inc., the go-to source for Mardi Gras information and the organization responsible for the Pensacola Grand Mardi Gras Parade, lists more than 50 area krewes on its website—and, while the list is extensive, it isn't exhaustive, as new krewes form every year, while other older ones break apart or disappear altogether.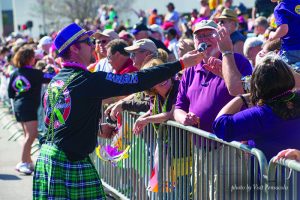 Despite what one would assume, there are no official rules as to what constitutes a Mardi Gras krewe, and any person or group can claim the title. Dues, bylaws, costumes, floats, and parade entries aren't the qualifying factor—a krewe is a krewe simply because it claims to be. While some krewes are closed to new members or offer membership only by invitation, the process of joining is different with each krewe. And if you don't find an existing krewe to join, you can always start your own, with your own rules and responsibilities; though if you want to get in on all the fun of the Mardi Gras parade, you'll need members willing to join and contribute their time and their money. To get started, a krewe must be able to pay the entry fees to whatever parades it wishes to be part of as well as the necessary insurance and then decide whether to be a walking krewe its first year or to buy or rent a float.
And while the party factor might be a great attraction, the main benefit of being part of a krewe is that they offer some sort of fellowship with other people who share a commonality. Some also provide tremendous networking opportunities, while others convey social status or represent a cause. Many of them also make it a mission to serve the community in some way, raising money for various charities or non-profits, volunteering their time, or sponsoring events or individuals in need of help.
From walking the streets in costumed formation to rolling along on a spectacular display of lights and sounds, however different one krewe might be from the next, they share the same chant of "Laissez les bons temps rouler!"