November 8-11 CUBED Luminous Downtown Pensacola 4:00pm – 6:00pm

Public art takes on a new level of inspiration and interaction! CUBED Luminous is a 4-day and night outdoor live digital art festival featuring a towering 18 ft. LED cube and 16 laser projectors illuminating the original murals of 16 artists—in real time, as they are being painted onto each side of four 8 x 8 ft cubes. From daylight into dark, watch the artists at work, enjoy live music and DJ sets, have lunch or dinner at the food trucks and stroll through the Makers City Marketplace. It's all happening in beautiful downtown Pensacola as part of the Pensacola Foo Foo Festival. Visit CubedGulfCoast.com for more information.
November 10-11 Market Basket: Enchanted Evergreen Court of de Luna 116 E Gonzalez Street | Pensacola 10:00am – 5:00pm Saturday 11:00am – 4:00pm Sunday
This year's Market Basket is an exciting fundraiser with food samplings from area chefs, home goods, and personal accessories for those with discerning tastes. Put on your Sunday best and join us at this exclusive and unique event! Visit JuniorLeagueOfPensacola.org for more information.
November 11 Jazz for Justice Seville Quarter 401 S. Palafox Street | Pensacola 11:00am – 7:00pm
Join us for a jazz brunch then continue your musical experience with an afternoon full of jazz music featuring an amazing silent auction, food, and networking!  This annual event helps LSNF raise funds to provide free civil legal services to those who need it most. General admission is FREE, or opt for the VIP experience for only $50, tickets are available online!
November 14-15 Entrecon Pensacola Little Theatre 400 S Jefferson St | Pensacola Wednesday 8:00am – Thursday 4:30pm

At EntreCon 2018 you'll learn how to infuse purpose and a focus on community into your business. Hundreds of thought leaders, entrepreneurs, business owners, and professionals will come together to learn how to lead positively and empower employees, coach and mentor others, grow a values-driven, agile, change-ready organization and ultimately build a better community. This is a "must-attend" for entrepreneurs, business owners, leaders, and employees with a passion to succeed, lead, and influence positive change. We encourage you to break away from the pressures and responsibilities associated with the business of doing business, learn how to improve your skills and results, and gain a fresh new perspective. Visit EntraconPensacola.com to register.
November 18 8th Annual Seville Quarter Wine & Food Festival Seville Quarter 130 E Government Street | Pensacola 2:00pm – 5:00pm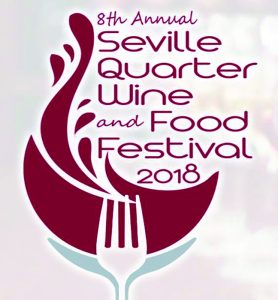 Festival-goers will enjoy over 200 handpicked wines from around the world served throughout it's beautiful and historic complex. "If you're into drinking great wine from around the world paired with local food, this is your festival" says Seville Quarter's Bill Carlson.To round out the festival there will be a Small Batch Bourbon Room and a Tap Handle Takeover with handcrafted microbrew beers. Top notch entertainment will be provided from musicians from the Frank Brown International Songwriters Festival. Visit SevilleQuarter.com for details.