Story by Courtney Murray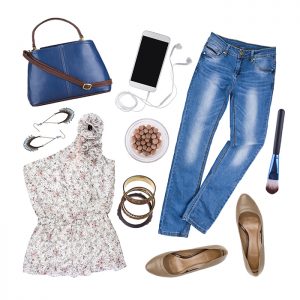 Once again, fashion is repeating itself! The 90's are back and these trends can be translated for all ages. Floral prints are popping up as fast as the flowers are blooming in the gardens. From sweet sundresses to bathing suits, this pattern is so cute and cheerful. If patterns aren't your thing try keeping it simple with white. There is nothing as fresh as a crisp white dress or top for summer. It creates a neutral palette with endless possibilities. Denim is shifting from skinny jeans to wide leg options, cropped bootlegs and high waisted "mom jeans". Light washes and destressed finishes are popular for pants and shorts. In past seasons the trend for bathing suits was the more skin the better! This summer's trends are perfect for those that are a little more modest. You will be seeing lots of one-piece suits and high waisted bikinis. Add in a floral or leopard print and you will be sure to look chic on the sand. A great versatile piece to pick up for summer is a kimono. You can find them in every color, pattern and fabric and they are perfect for pairing over cut offs and a tank, a bodycon dress or to throw on over a bathing suit. If your wardrobe is already set for the season, try incorporating new accessories. Rattan is everywhere from bags to earrings. Lucite and tortoise shell is popping up, as well. Translucent purses, shoes and sunglasses are a modern way to add some interest to an outfit without taking away from it.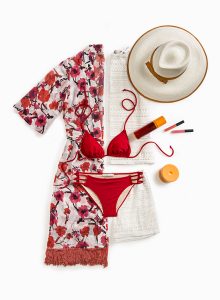 Putting together the perfect summer ensemble requires a head to toe look. One of the hottest trends is hair accessories. Scrunchies, bows, headbands, ribbons and barrettes are making a comeback in a big way. Pearl hair clips and velvet hair bows are not just for little girls anymore. Ruffles for women are big, too. Off the shoulder tops and one shoulder ruffled bathing suits are a great way to wear the trend. Sweet and dainty ruffled dresses look adorable paired with a denim jacket. Denim jackets can double as an accessory worn tied around your waist with everything from dresses to leggings. Paper bag waists are another popular silhouette as well as anything high waisted. Try out the body suit trend that pairs perfectly with skirts and high waisted bottoms.