by Kimberley Sabens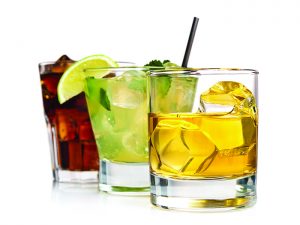 There's nothing better than hitting the open water on a hot day. Enjoying the feeling of the breeze ruffling through your locks as you gaze out onto the enchanting open ocean waters can only be matched with the perfect libation for your well-deserved day in the sun. I don't know about you but I immediately think of Jimmy Buffett when pondering my island style refreshments. Whether you're sailing the Caribbean or just hanging locally admiring the gorgeous Gulf of Mexico, I have some suggestions for your next day out on the deep blue sea.
Hands down, cold beer is one of the most popular choices while boating. It is easy to carry onboard and is nice and refreshing while baking underneath Florida's ample sunshine. Try one of the local brewers like Pensacola Bay Brewery or Gulf Coast Brewery. They make a variety of brews ideal for enjoying out on the water. Take plenty of ice and restock as needed so there will always be a cold one waiting for the next person to pop the cooler top.
Another hugely popular boating libation is any mixed drink containing rum. For ease, I wouldn't recommend blended drinks like Jimmy Buffet's preferred piña coladas or daiquiris, although both sound pretty tasty right about now. However, both require use of a blender and that may or not be an option on your outing. I like to keep things super simple when I am floating about on the iridescent emerald waters of the Gulf.
One of Ernest Hemingway's favorite cocktails was the Mojito. He would sip on this delicacy while lounging about in one of Old Havana's bodenguitos. Traditionally, mojitos are made with fresh lime juice, sugar, gently muddled fresh mint, sparkling water, ice, and high quality white rum. Not a mojito fan? No worries at all, take some soda along and make a classically delicious rum and Coke or a Bermudian dark and stormy made with dark rum, ginger beer, and lime juice.
Not into beer or rum? That's okay, too! How about Tequila? Margaritas on the rocks are a perfect choice for boating. To make them extra special, add some orange-flavored Triple Sec or Grand Marnier Cognac to add to that irie island feel to your day. Another great option for tropical chasing tequila lovers is a Tequila Sunrise. This magical spirit is made with fresh pineapple, orange juice, grenadine, cherries, high quality tequila, and ice. Mix well, sit back, and enjoy a sunset or sunrise along the sugary shores of the Emerald Coast.
Most importantly, when reveling in a day of boating and sun sports, hydration is the key, so don't forget to drink plenty of good ol' water. After you properly hydrate, imbibe on one of the more popular potent potables and relax on the waves. Soak up the sun and have some fun, whatever drink you choose, I'm sure it will be one amazing day on the water. Cheers, pirate friends!
---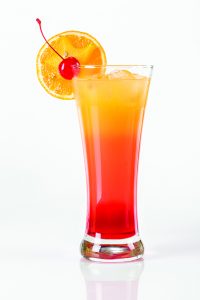 Tequila Sunrise
The Tequila Sunrise is a cocktail made of tequila, orange juice and grenadine syrup, served unmixed in a tall glass. 
Ingredients:
• 3 oz (6 parts) Orange juice 
• 1 1/2 oz (3 parts) Tequila 
• 1/2 oz (1 part) Grenadine syrup
Directions:
Pour the tequila and orange juice into glass over ice. Add the grenadine, which will sink to the bottom. Do not stir. Garnish with orange slice, star fruit slice, cherry and serve.