By Liesel Schmidt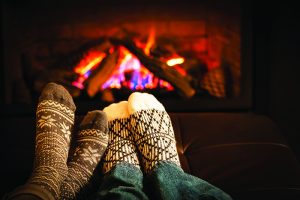 Spirits have long had a history of being used as a way to celebrate everything from births to marriages, coming heavily into play at various other occasions when festivities have natural spirits running high—and no other drink is so synonymous with Christmas in a way that could ever hold a candle to eggnog.
The origins of this rich, eggy beverage of boozed-up bliss date back centuries, most notably making its mark back in 18th century Britain when aristocrats popularly used it in toasting to their own health and prosperity. Too costly for more common society, the fresh eggs and milk, sherry, cinnamon, and nutmeg used to create the early iterations of eggnog were hard to come by, making it an almost elitist drink, though moderately less pricy variations were mixed up using brandy or Madera wine. When eggnog took its ocean voyage to make its way to the colonies, rum was substituted for the heavily taxed importations of brandy and wine, and later events necessitated the use of domestic whiskey and bourbon or the even less-expensive homemade moonshines commonly distilled throughout colonial America. It was in the early days of America's independence that eggnog truly formed its closest ties to the holidays, and since those harsh times that challenged the mettle of the American spirit and made the Christmas season a gift to treasure with friends and family, eggnog has gained even greater popularity as the perfect way to sum up the warmth and joy of the holidays—a sweet sip to savor and toast that for which we feel truly grateful.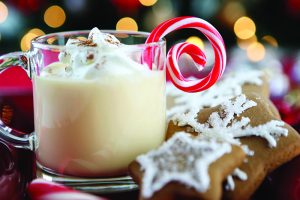 As with so many blended drinks, eggnog can be crafted from scratch or bought commercially both in alcoholic and non-alcoholic versions, though eggnog's availability is generally limited to the Thanksgiving and Christmas season. Most commonly served with garnishes such as grated nutmeg and a dusting of ground cinnamon atop a mountain of whipped cream, whole cinnamon sticks, vanilla pods, and even chocolate shavings are also seasonally loved add-ins to this custardy creation of Christmas-time cheer.
Whether spiked and spiced or kept kid-friendly, there's no flavor that speaks so much to yuletide joy than eggnog; so pour it on and taste the sweetness of the gifts you have in this life as you raise a glass with the ones you love.
Traditional Eggnog
(Serves 12)
Ingredients:
4 cups milk
5 whole cloves
2 1/2 tsp. vanilla extract, divided
1 tsp. ground cinnamon
12 egg yolks
1 1/2 cups sugar
2 1/2 cups light rum (bourbon, whisky, cognac, sherry, or moonshine may be substituted)
4 cups light cream
1/2 tsp. ground nutmeg
Directions:
In a small saucepan on low heat, combine milk, cloves, cinnamon, and 1/2 tsp. of the vanilla extract and stir, slowly bringing to a boil after 5 minutes.
Combine egg yolks with sugar in a large bowl and whisk together until a fluffy consistency is reached. Slowly pour the hot milk mixture and the egg/milk mixture into a large saucepan. Continue to cook over medium high heat and stir constantly for 3 minutes until thickened. *Note: Do not allow mixture to boil.
Remove from heat and strain cloves, allowing the mixture to cool for about an hour.
Stir in remaining 2 tsp. of vanilla, cream, rum, and nutmeg and refrigerate over night.