By Liesel Schmidt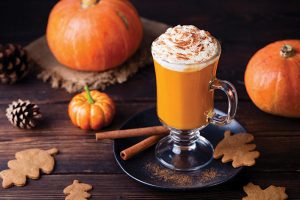 The onset of fall brings more than just crisp air and rich colors—it brings a harvest of seasonally inspired menus and foods, the trendiest of which seems, in recent years, to be the ever-popular pumpkin spice, a flavor that has popped up in everything from cereals to lattes and ice creams. But not to be forgotten are those pumpkin spiced notes finding application in beers and cocktails, bringing adult beverages into the season and imbuing them with hints of the harvest that put one into a truly festive frame of mind.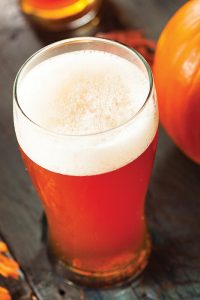 With a steady finger on the pulse of their respective crafts, the tastemakers of Pensacola are parlaying pumpkin and tapping in to toasted spices to use them as ingredients in craft beers and cocktails, from Pensacola Bay Brewery's Pumpkin Vanilla Porter to the Cabin Fever No. 5. at Jackson's Steakhouse. It's proof positive—no pun intended—that the warm spices, pumpkin, and seasonal fruits so inherent to fall have a place far outside the confines of the plate. These are the tastes we have come to associate with making merry, with celebrating and sharing time with loved ones. What better way, then, could these very flavors be brought to the fore than in creative cocktails and beers that are becoming seasonal favorites as the perfect way to enjoy fall to its fullest.

And there truly is something for everyone. Love a lager? Try Gulf Coast Brewery's Oktoberfest Marzen Lager, an elegant German amber lager whose rich, toasty, and yeasty malt flavor offers just the perfect trace of bitterness and a dry finish. For the perfect porter, Pensacola Bay Brewery combines notes of pumpkin, vanilla, and nutmeg to create Pumpkin Vanilla Porter, achieving a balance of flavors that makes this dark brew shine bright. For subtle hints of nuttiness, tap into McGuire's Oktoberfest, a dark ale that pays homage to the hops and does the Bavarian-born harvest time festival proud. If you thrill to a chill, you'll be out of your gourd for the Frozen Pumpkin Spice cocktail, McGuire's signature seasonal concoction made with nutmeg, pumpkin, cinnamon, and spiced rum topped with whipped cream and garnished with candy corn.
Whatever you please, fall is a harvest of robust flavors; and whether beer gets you brewing or cocktails shake you up, autumn's cornucopia of libations proves this is one season worth falling for.
---
Jackson's Steakhouse – Cabin Fever No. 3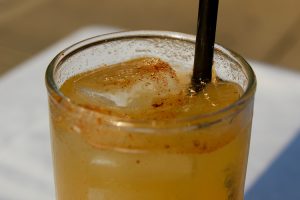 Ingredients:
2 oz. Woodford Reserve bourbon
2 bar spoons Roasted Peach Puree (recipe to follow)
1 oz. ginger beer
Grated nutmeg (for garnish)
Directions:
In a cocktail shaker, combine bourbon with peach puree and add ice. Shake until well-mixed and double strain into a collins glass over ice. Top with ginger beer and roll once by pouring mixture into another container and then back into the collins glass. Garnish with grated nutmeg.
---
Roasted Peach Puree
Ingredients:
6 peaches
6 oz. maple syrup
1 tbsp. ground pumpkin spice
Directions:
Peel peaches and cut in half, placing each half cut-side down on a sheet pan. Roast in the oven at 350 degrees for 15 minutes, then remove and allow to cool. Combine roasted peaches, maple syrup, and pumpkin spice in a blender and puree until smooth.
"This is a cocktail that truly encompasses all the flavors of autumn. The sweetness and smokiness of the roasted peach puree is really brought out by the maple syrup and baking spices; and the oakiness, malt, and rye flavors of the bourbon add a toasty-nuttiness that really brings the layers of flavors in this cocktail up a notch. The natural flavor profile of Woodford's bourbon has the notes of apricot, vanilla, butterscotch, caramel, and warm spices like clove, cinnamon, and nutmeg…all of which go wonderfully with everything else that's going on in this 'quintessentially fall' cocktail."