story by Liesel Schmidt | photos by Kristina Wright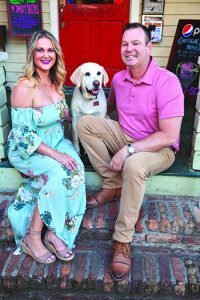 As the multi-billion-dollar pet industry so clearly demonstrates, dogs are certainly enjoying their day out, enjoying the good life from the coziness of their couture carriers as their personalities sparkle and shine in the glow of blinged-out collars. From gluten-free gourmet treats to high-end refrigerated foods, there's nothing too good for our four-legged pups, and we truly enjoy spending time out with them anytime we can. Naturally, time out with the puppies isn't always possible—especially when you're going out for a bite to eat. But rather than making diners leave their best friends home while they hit the food scene, local couple Ron and Heather Kilpatrick took the proverbial ball and ran with it, opening a fun, causal restaurant where the guest list isn't limited to those with two legs and naming it for their own beloved barker, a 12 year-old Labrador named Lucy.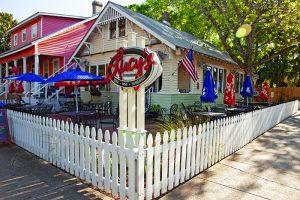 Open since September 2016, Lucy's In the Square set up for service in one of downtown's old century homes, which played ideally into the whole concept of hominess that the Kilpatricks wanted their guests to feel during each visit. Rather than limiting seating to their interior dining room, however, Lucy's really plays up the interest in their outdoor space, where guests can relax and dine in the company of their dogs, breathe in the fresh air breezing through the streets of downtown, and chill out to some of the area's best local musicians during their bi-weekly live music sessions.  "We really wanted Lucy's to be a place for people to mingle, relax, and unwind as they enjoy great, fresh, shareable foods, a large selection of craft beers, and a versatile wine menu," Heather explains. "As dog-lovers ourselves, it was really important to us that everyone feels as though we're pet-friendly and that we welcome them with open arms. Our guests enjoy that, and we love seeing our guests happy."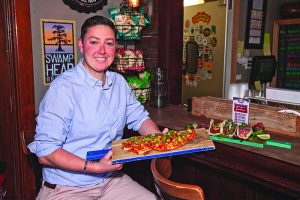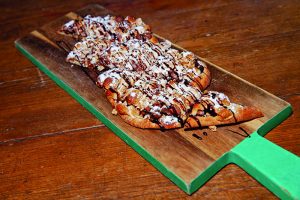 Keeping their guests happy in heart is important, of course—but as a restaurant, their greatest success relies on the strength of their menu, and their menu is certainly strong. However simple it might seem, the flavors are anything but, as they use the freshest ingredients to scratch make nearly every item they serve. From seasonal signature soups and salads to fresh-fired flatbreads, gourmet grilled cheeses, and unique tacos, Lucy's offers shareable plates and entrees so delicious they could make even the biggest foodie come to heel. "We strive to offer a menu with an abundance of flavors, and that really is the result of the fact that we use the freshest ingredients and that everything we make truly is made with heart," says Heather.
All heart—but plenty of bite, as Lucy's has become a local favorite for their hearty Tomato and Roasted Red Pepper Soup, their creamy house-made guacamole, and their spiced-up Shrimp and Chorizo Tacos. From the earthiness of the Wild Mushroom Flatbread and the layers of Tex-Mexiness piled high atop crunchy tortilla chips in the Yardbird Nachos to the selection of specialty cheeses and meats on their Charcuterie Board, Lucy's is marking its territory on Pensacola's food scene, and guests are happy to chow down on all they have to offer.
Enjoying no less attention is their selection of craft local brews, their wide array of quality wines, and one of their very own claims to fame—their house-made sangrias. "We're slightly famous for them," Heather says with a proud grin.
A sweet wine infused with fruit, Lucy's sangrias are certainly a sweet finish to a meal or simply as a sip to savor while the world passes you by. If you're in the mood for some icy fun, order a sangria pop, an ingenious invention made from freezing their "famous" sangrias into popsicle form and served submerged in a glass of wine or champagne.
But these are not the only sweets to be had at Lucy's, as they offer a selection of seasonal homemade desserts and a S'mores Flatbread whose decadence pays homage to its namesake with every last bite, combining milk chocolate, marshmallows, and graham cracker crunch and melting them together atop flatbread served hot and fresh from the oven. "Do yourself a favor and order it!" Heather laughs. "It never disappoints."
Whether you come with your four-legged companion in tow or come to dine with friends of the human kind, Lucy's in the Square is a destination not to be missed, a true downtown find where fantastic food, great fun, and seriously sip-worthy sangrias make every guest as happy as a dog with a bone.
Lucy's in the Square is located at 301 South Adams Street, Pensacola, Florida 32502. Open daily 11:00 a.m.- 10:00 p.m. For more information, call (850) 378-8475 or visit them on Facebook.
Lucy's Pineapple-Lime Sangria 

Ingredients
1 bottle pinot grigio
30 oz. pineapple juice
30 oz. lemonade
30 oz. lemon lime soda
10 oz. dry sake (or vodka, if preferred)
2 fresh limes, squeezed
1 fresh pineapple, cut into chunks
Fresh mint leaves

Directions
Using a mortar and pestle, muddle fresh mint and set aside. Add pineapple chunks into a large 1-gallon pitcher, then add muddled mint. Pour all liquid ingredients into the pitcher and stir together until fully mixed. Chill, serve, and enjoy!

Sangria Pop Directions
Follow recipe as above, but omit pineapple chunks. Instead, use a blender or food processor to create pineapple puree from the chunks and pour into popsicle molds, filling only until 1/4 filled. Next, slowly pour prepared sangria into the molds to layer the popsicle. Freeze for a minimum of 4 hours, then remove from molds and serve as popsicles (remember to insert popsicle sticks prior to freezing) or place them in a wine glass and fill with the varietal of your choice or more sangria. Makes 4 ounce popsicles.