photos by Kris Rollason Photography  | story by Natalie Ale
Nestled on its short block of Intendencia St. between Palafox St. and Jefferson St., Taco Agave is Pensacola's hidden gem when it comes to tequila cocktails. Behind the bar at Taco Agave, you can find over 50 different, unique tequilas and bartenders with a passion for their craft and the expert knowledge to help you navigate your way through each of them. While the belief at Taco Agave is that there's nothing better than a perfectly poured shot of tequila, we also offer a variety of unique, craft margaritas and other tequila cocktails. Each cocktail is carefully crafted with only the freshest ingredients. The bartenders at Taco Agave are encouraged to use their creativity to continuously experiment with different components to bring Pensacola the freshest and most creative cocktails possible. Because of this, each month there is a "Cocktail of the Month" featured that is made with unique tequilas to make trying new things just that much more accessible for our customers. Our Cocktails of the Month give us the opportunity to think outside the box and offer new, exciting cocktails that keep the spark alive on our cocktail menu.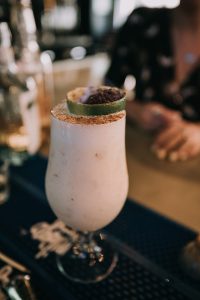 Who says that fireworks are reserved for just the 4th of July? We are bringing the fireworks all year long with our take on the traditional piña colada, the Tequila-Colada. Light and smooth with that delightful punch that only good tequila can offer, this refreshing cocktail is the perfect start (or middle…or end) to any night. Pair this cocktail with any of the variety of taco and "not taco," as the menu states, options offered at Taco Agave for the ideal date night, girl's night, or random Tuesday night.
If you're stopping by Taco Agave, be sure to check out their other 3 sister restaurants that make up the 200 South complex, Graffiti Pizza, Blend Lounge, and World of Beer. With Blend Lounge, World of Beer, and Taco Agave all being connected, checking out what each has to offer is as simple as a stroll down a hallway. Founders, Matt Lafon and Scott Zepp, have created something really unique with 200 South in that they have created a spot downtown that really does offer something for everyone. On one side of Taco Agave, World of Beer offers 50 different, everchanging beers on tap, 5 draft cocktail options, full liquor selection, and over 500 different can and bottle options, to give you the opportunity to try just about anything you could imagine. World of Beer is Taco Agave's perfect counterpart, offering a variety of pub fare as well as shareables and sandwiches. On the other side of the hallway sits Blend Lounge, the most vivacious of the group. Blend Lounge is the perfect spot to catch a game during the day or party with the DJ at night. The final piece of the 200 South puzzle opened just one year ago, Graffiti Pizza. Where Taco Agave is creative with their cocktails, Graffiti Pizza has brought that same unique, creative thought process when it comes to pizza. Everything they offer is completely customizable. Whether you're ordering one slice, a whole pie, or an order of cheesy bread, you have the ability to make it exactly how you want it. Each of these places offers something unique to the Downtown Pensacola community and we are so excited to be even a small part of the growth we've seen in the last couple of years in the city that we love so much.
Mix It At Home
INGREDIENTS:
• 1.5oz Blanco Tequila
• 2oz Coconut Cream
• 2oz Pineapple Juice
• Fresh Muddled Pineapple
• Ice
• Tall Glass
• Lime Wheel Garnish