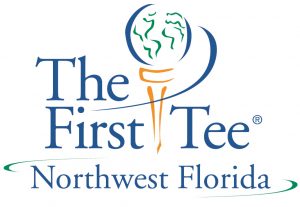 Story by Greg Alexander ~ Photos provided by The First Tee of Northwest Florida
What is known today as The First Tee of Northwest Florida was initially founded in 1990 as The Greater Pensacola Junior Golf Association. They partnered with the international organization First Tee in 2003 to become a Chapter. The chapter is one of many in the First Tee network that is reaching young people in all 50 states and select international locations on golf courses, in elementary schools, and through other youth-serving organizations. In accordance with The First Tee of Northwest Florida's mission, they are essentially trying to teach golf skills and life skills to young people ages 5-18, regardless of ability to pay. They only see two outcomes – good citizens and golfers for life. They believe that their efforts have as much in common with scouting as the do with a sports camp. They have never turned away a single youth participant because of the inability to pay a fee, which actually are already quite low.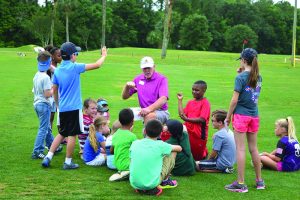 There have been many longitudinal studies proving that the core values of golf carry over beyond the golf course and into the classroom and the home. Values such as honesty, integrity, courtesy, and the like make a huge difference in the lives of young people and positively impacts their academic achievement.While golf sometimes has a reputation of being thought of as a rich person's sport, it has a core set of values that makes it unique. All sports are great in they eyes of many, but golf is the only sport in all of the world in which penalties are called by the players on themselves, with rules that begin with the presumption of the honesty and integrity of the player. It's a sport that can open doors unlike any other and can be enjoyed for a lifetime.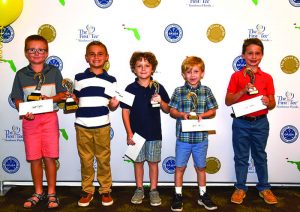 Many of you have heard of local events that support The First Tee. In January and August they have winter and summer Downtown Trolley Dinners that begin and end at Seville Quarter, where patrons visit local restaurants for small plates with paired wines and craft beer. Their Annual Gala is always on the Friday of the Masters golf tournament, which this year will be April 10. Monikered as "The Golf Ball" and held at Skopelos at New World Landing, it is a cross between a day at the Masters and Caddyshack, and is a spoof on the traditional concept of a "Ball."  There is Masters inspired food, a great live band and a $5000 putting contest inside the ballroom. It is an absolute riot highlighted by a number of wild and crazy golf outfits – all for a great cause.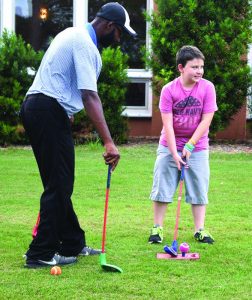 The First Tee has a very robust website that details all of their offerings, including their once weekly clinics held in spring and fall at 15 different sites.  Students progress through levels similar to scouting and become eligible for national participant opportunities at the 3 highest levels and have the opportunity to travel to fully funded tournaments, camps, clinics, and forums as well as academic honors and college scholarships. Visit the site at www.thefirstteenwfl.org for all event details for junior golf and fundraising. It also details the process of volunteering, which involves an application, background check, and extensive training. There are also details on how to give, including a booster club for both individual donors and corporate sponsors.  More details are available at 850-456–7010 or stop by their office 3924 West Navy Blvd. in Warrington.  Information for the Goofy Golf is also listed on the website.
Interview with Marty Stanovich, Executive Director
The First Tee of Northwest Florida
What is the mission and key purpose of The First Tee of Northwest Florida.
Our mission as a youth serving organization is to teach golf as a lifelong sport and to instill character education through the game's inherent nine core values.
How did you become involved with The First Tee of Northwest Florida?
Soon after returning to Pensacola in 1995, I joined the board of the GPJGA and was soon named chairman.  I served in that capacity for eight years where I participated on a committee that partnered with Pensacola Sports and First City Sports. After a year and a half, and under the leadership of Hiram Cook, Jerry Pate, and Joe Durant, we were able to become a chapter of The First Tee.In the mid 90s we also took over operating the annual Divot Derby golf tournament, established in 1958 by Pensacola Sports and still operated as the oldest fully free junior golf tournament in the United States. Former champions include Jerry Pate, Adrian Stills, Heath Slocum and Bubba Watson.
What impact has The First Tee of Northwest Florida had on the Pensacola community in the last year?
Each year is a building block and this last year we had 798 unique youth participate in our programs, about 450 of them becoming multi year participants and about 200 of them playing some form of competitive golf.On the development front we were able to bring David Feherty, TV personality and former pro golfer, to the Saenger Theater in September, which was a huge undertaking for a small organization such as ours, but proved to be very successful and very well attended (and well covered by VIP Pensacola. I might add).


How is your organization funded?
We receive no funding from the global headquarters in Saint Augustine, Florida, but I'm also glad to say that we do not have to pay any fees to the home office either.  All money is raised locally and spent locally.  Only about one dollar out of every five comes from a participation fee, with the rest from individual donors, corporate donors, grants, and events.
What is the most rewarding part of your involvement with the organization?
Watching all the young people grow and become leaders, mentors, and volunteers. If one of them becomes a great golfer, that is fabulous. It's definitely part of what we try to do, but the endgame is to raise good young people who then become well-educated productive citizens.  We send a great number of students off to college to play golf, including many on women's golf teams. I am most proud that almost 100% of our alumni attend college — a far higher number than programs that are only about sports.
Describe a situation working with the organization that really stood out and touched you.
We have had great success working with high functioning youth with autism and one of the greatest moments was when a mom came to me describing how much golf had meant to her son.  He had wanted to participate in other sports but could not function amidst the cacophony environment of so many team sports. Through golf, he was learning focus and showing the core value of perseverance. The course has become his happy place and has positively affected all of the other aspects of his life. It made his home relationship with his family and his siblings even better and gave him something to look forward to every day after school.
What does the future of your organization look like?
Our future is incredibly bright. We are just months away from finishing our Golf and Life Skills Training Facility at the site of the historic 1958 "Goofy Golf." When completed in late spring, we will have 36 holes of miniature golf, a 7000 square-foot pitching and chipping green with a practice bunker, and an 11-bay floating golf ball driving range, as well as the reopening of our baseball and softball batting cages in partnership with the Leadership Pensacola class of 2020. All proceeds from those who come out and play miniature golf support the operations of our organization.