Story by Mary Aho
Wedding season is upon us. While the ceremony is the most important part of a wedding, the reception is always anticipated. The reception is not only for celebrating with toasts and dance but wonderful food is always involved. While some couples decide to have a traditional wedding in all aspects, many couples are going for less traditional routes when it comes to their big day. That is including the menu. This year, one of the big trends we are seeing is an early wedding followed by a reception with a brunch menu. Here are some ideas to have a successful brunch wedding reception your guests are sure to enjoy.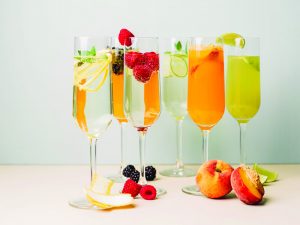 Like any great brunch, we need to start with cocktails. There are two brunch cocktail staples, a good bloody mary and mimosas. Setting up a build your own bloody mary and mimosa bar is the way to go. The set up for both is pretty similar and simple. The Bloody Mary bar needs vodka, a bloody mary tomato juice base, and plenty of toppings. Toppings like pickled vegetables, hot sauce, and protein like shrimp and bacon are all good choices. It can be as simple or adventurous as you choose. For mimosas, you will need champagne, a variety of juice, and add ins. Some ideas for add ins are fresh fruit, Rock candy, and Syrups. Like bloody marys, the mimosa bar can have whatever you like. Get creative and make it your own.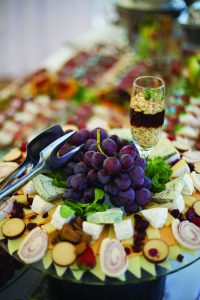 Once you have a cocktail, it's time for food. The possibilities are endless when it comes to brunch. The best thing about brunch is the lack of rules that come with it. Having a mix of savory and sweet items on your menu gives you plenty of variety. An easy way to make sure you have both is a biscuit bar. Biscuits are easy to make and so versatile. They are the perfect base to build a tasty brunch entrée. Start with a basic biscuit. Then you can have a variety of flavored butters and jams. Syrup, honey and fresh fruit are also great toppings. If you prefer a savory biscuit, have options like fried chicken, sausage, and ham. You can also have toppings like mustard, gravy, and pickles.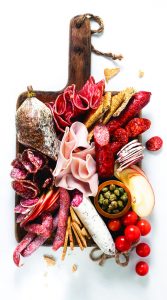 In addition to a biscuit bar, have other easy options. Fresh fruit is so easy and delicious. Serve it with yogurt and granola for mini parfaits. A charcuterie board is always a stunning addition to a brunch spread. Although they look amazing, they are easy to make and everyone always loves them. Finger sandwiches like chicken salad and pimento cheese on croissants are a nice savory element. Mini quiche, bacon, and muffins are all good bite sized options to have as well. There are so many opportunities to be creative with a brunch menu.
When it comes to a wedding cake, we are seeing more and more that people are going the less traditional route. A big trend for wedding dessert now is doughnuts. Doughnuts are the perfect addition to any brunch menu, especially a wedding brunch menu. There are two big ways we are seeing doughnuts at weddings. The first and easiest option is a doughnut tower. You start with a circle of doughnuts and stack them up in a circle getting smaller and smaller until you've built a pyramid. The second option is a doughnut wall. You take a pegboard and hang the doughnuts to display them. While not traditional, it is a fun whimsical way to toast the happy couple.
When you go to create your wedding brunch menu, just have fun and remember to have variety. Brunch is meant to be laid back with no rules. No matter how you choose to brunch your guests will enjoy your delicious menu.