By Liesel Schmidt
When you're a bar that's been on the beach and drawing crowds since the 1970's, major damage from a hurricane is really only a hiccup—especially when there are people determined to not only building things back up and restoring them, but also dedicated to maintaining as much of the OG as possible while adding to it only in the best way.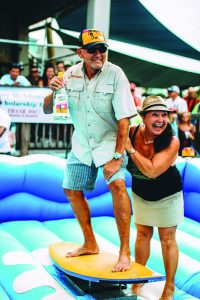 That was essentially the goal for Bev and Sonny Campbell, who took over ownership of The Sandshaker, aka "Shaker Bar," on Pensacola Beach after Hurricane Ivan swept through the area in 2004. Sure, they could have put their own stamp on their newly acquired bar and totally reimagined it—but why mess with a good thing? With Sandshaker's enviable locale and their world famous Bushwacker recipe working for them, the Campbells could hardly have had a more perfect formula for success. And so when they gutted the damaged bar, they rebuilt it inside using much of the same features so known and loved since it's original construction way back in the day, keeping it as familiar to the locals who had made it their home…And that's probably why it continues to be so loved. Well, that, and the killer drinks.
As the "Home of the Original Bushwacker," it goes without saying that Sandshaker must naturally live up to its reputation for making the best version of the drink, a mind-blowingly delicious concoction akin to a milkshake whose two greatest ingredients are the Kahlua and the rum used in its recipe. And boy, can this drink get you whacked. Bushwacker buzzes aside, however, Sandshaker is a great place to enjoy some good times at the beach, a place where the bartenders know how to make a mean cocktail and—much like the bar itself—have become familiar faces, so long have they been serving there. "That's one of the things that makes this place so special," says Bev. "People come back to the beach, year after year on vacation, and they still see their favorite bartenders and servers working behind the bar."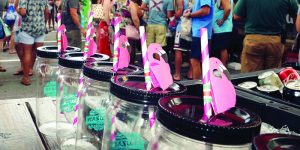 And while things could easily get stale by staying the same, Sandshaker keeps things fresh and fun by adding new drinks to their repertoire and keeping their social calendar happening with festivals and events that draw the crowds in droves…Not the least of which is Blue Angels week in July, a time when everyone from the entire region seems to have converged on Pensacola Beach to marvel at the jaw-dropping flight maneuvers of our beloved Blue Angels during their much anticipated air show. So perfectly situated is Sandshaker that they've got prime viewing for it all, with an observation deck directly across the street from the main beach and in line with the Coast Guard vessel that serves as the center-point for many of the Angels' flight maneuvers.
But that's not the extent of the fun. Having rolled out a new rum-based drink called Pusser's Painkiller during their annual Rum Festival in June, they start off the summer with a bang, following it up with Blue Angels week in July…But who could forget the Bushwaker Festival in August? After all, they arethe maker of the original. And even as the summer winds down, they send it off in style with Breezers MusicFest in September, then,give a casual nod to fall with Shakerfest in October. "If you want to get out and have some fun, this is the place to be!" Bev says. And if forty-odd years of history is anything to go by, Sandshaker certainly seems to have the lock-down on the recipe for great drinks, great fun, and great times…With a little bit of sand shaken into the mix.
The Sandshaker is located at 731 Pensacola Beach Boulevard,Pensacola Beach, Florida 32561. Open daily from 10:00 a.m.- 3:00 a.m. For more information, call (850) 932-2211 or visit www.sandshaker.com.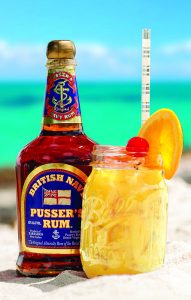 Pusser's Painkiller
Ingredients:
2 oz. Pusser's Rum
4 oz. pineapple juice
1 oz. orange juice
1 oz. Cream of Coconut
Freshly grated nutmeg
Directions:
In a cocktail shaker, combine all liquid ingredients and shake until fully mixed. Pour over a glass filled with ice. Garnish with grated nutmeg and serve.