Story by Courtney Murray
Snowy. Crisp linen. Eggshell. Cloud. Cream. Winter White. As the weather turns from the sultry long days of summer to a blustery winter season many people find themselves gravitating towards a darker palette. Why not step out of the box and go the other direction. Winter white is a look that turns heads. It is chic, it is timeless, and it is for everyone. Every age looks fabulous in a light and bright ensemble. White on white can be translated to casual with a cozy oversized knit sweater sipping wine by the fireside. A flowy cream blouse paired with white denim or wide legged trousers and a nude stiletto will boost your confidence walking into happy hour. That's a look that exudes casual elegance. If you want to go full on elegance, a white sequin gown reminiscent of sparkling snow is the perfect choice for a winter ball or fancy holiday party. Crisp whites and creams are a sophisticated choice for the office as well. There is nothing quite as stunning as a creamy pant suit with clean lines to elevate your look. A monochromatic ensemble with a white bodysuit and an off white trench coat is an instant showstopper.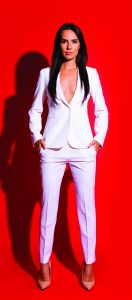 Winter white isn't limited to clothing. Accessories are a fun way to add to an outfit. For shoes, try out a strappy cream heel for a barely there look that matches with everything. A fun way to incorporate a trend and stay warm this season is with a nude over the knee boot. These look fabulous with everything from dresses to jeans. An iridescent clutch or off white tote are the ideal complement to a classic winter white outfit.
It's hard for the average male to pull off a head to toe white moment…but men can try their own take with tans, and creams in a variety of textures. An off white cashmere sweater, light tan chinos and a matching wool pea coat is a look that will instantly elevate and a can be worn to the office, on a date, or to a holiday gathering. Winter white looks incredible in outerwear, too. Throw on a white blazer to dress up a pair of distressed denim or over a dress, or a sparkly skirt to make it more casual. Cream looks great in everything from puffer jackets to cropped leather moto jackets; and every man, woman, and child should own a classic cream wool coat. It is stunning, it is classic, it is crisp, and goes with everything. The winter white look appears effortless, but proceed with caution; it definitely takes a lot of work to stay clean. Invest in a good Clorox to-go pen and get out in your best whites this season.